Launch at your own risk!

The public is asked to use extreme caution when using the public launch ramps at Lake Powell. The decrease in water levels has reduced the depth of water in these areas, creating shallow water on the ramps with steep drop-offs. More »
Bullfrog Launch Ramp Construction

Bullfrog Main lunch ramp is CLOSED for construction. All boats may use the temporary ramp located on the spit to launch and retrieve.
Visitor Centers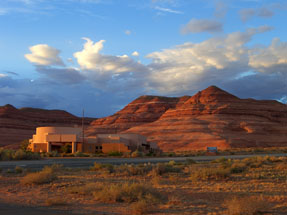 Scott Garner
Bullfrog Visitor Center
Open now Thurs-Sunday from 9-1
Phone: 435-684-7423
Location: Highway 276 north of Bullfrog Marina
Attractions: Exhibits relating to geology and the human and natural history of Glen Canyon. Ancestral Puebloan ("anasazi") and pioneer artifacts. A life-size model of a slot canyon. Bookstore, restrooms, medical clinic (May thru early October only).
---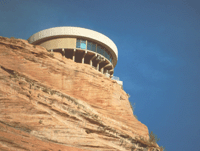 Carl Hayden Visitor Center at Glen Canyon Dam
Summer hours (mid-May - mid-September) 8 am – 6 pm MST;
Winter Hours (November through February) daily, 8:30 am - 4:30 pm MST;
Rest of year open daily 8 am – 5 pm MST;
Closed Thanksgiving, Christmas, and New Year's Day
Phone: 928-608-6404 (leave a message). Tours of the Dam: 928-608-6072
Location: Highway 89 on west side of Glen Canyon Dam
Attractions: Tours of the dam provided by Glen Canyon Natural History Association, exhibits, video shows, a relief map of the entire Glen Canyon area. Restrooms and a bookstore.
Tours of the dam are $5, and as a federal power plant facility, security measures are in place. While no bags, purses, knives, weapons, or food are allowed on the tour, wallets, cameras, and clear water bottles are welcome.
---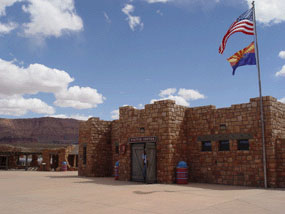 Navajo Bridge Interpretive Center
Open daily 9 am - 5 pm MST April through October.
Phone: 928-355-2319
Location: Highway 89A on west side of Navajo Bridge
Attractions: Bookstore, outdoor exhibits, and self guided walks across the historic Navajo Bridge. This is a popular spot to look for a California Condor.
---

Visit the Escalante Interagency Visitor Center

Grand Staircase-Escalante NM, Glen Canyon NRA, Dixie NF
Did You Know?

Be careful what you breathe. Boat generators, engines, and gas appliances produce deadly carbon monoxide gases. Ensure proper ventilation. Don't swim, sit, or work near exhaust.