Ranger Presentations & Special Events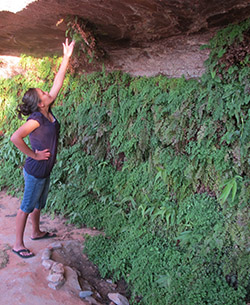 Hanging Garden Guided Hike
Join a ranger for a ½ mile (.8 km) one-way guided hike to a desert oasis. Hike will last approximately 1 hour.
Time: 5:30pm every evening through the end of September
Meet: Hanging Garden Trailhead
Directions: Turn off is ¼ mile (.4km) east of the Glen Canyon Bridge on Hwy 89. Park at the gate and walk through to the trailhead.
Bring: water, sturdy shoes, and sun protection. The only shade is at the Hanging Garden itself.
There are no restrooms or trash cans on this trail. Please take care of personal needs before arriving at the trailhead.
Did You Know?

Personal watercraft are vessels. In Utah, you must be 18 years old to operate a personal watercraft alone (unless you comply with Utah personal watercraft operator conditions); in Arizona, you must be at least 12.