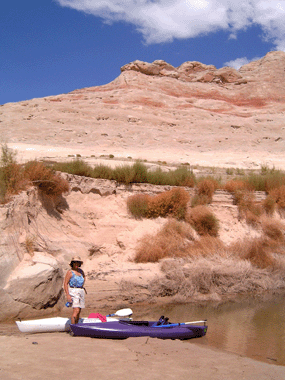 Photo: Mike Wenger
Downlake Kayaking
Many locals enjoy smooth day trips around the Wahweap and Lone Rock areas . There are times when the beaches are pretty crowded with motorized vessels, but there are a few quiet coves a kayak could sneak into.
For longer trips, Warm Creek Bay is a popular destination. When the lake is at full pool, there is a cut between Castle Rock and Antelope Island which is used as a shortcut to Warm Creek Bay and other destinations north. At times when the cut is closed, there may be a chance to portage a kayak across the cut, saving the trip around Antelope Island.
Padre Bay has many nice beaches. Getting there can be difficult, because there is nowhere to stop in the Narrows, where it can become quite choppy during high boat traffic or inclement weather.
Uplake Kayaking
Moqui Canyon: about 1.5-2 miles up stream from Halls Crossing marina. This is a great kayaking spot as long as boat traffic is not too heavy. The canyon is relatively long (even at lower lake levels) and has high walls and many large alcoves. When you run out of lake, Moqui is also a nice spot for a day hike.
Lost Eden Canyon: about 1 mile down stream from Halls Crossing marina. This is a short 3-fingered canyon with beautiful sculpted walls and several extremely large alcoves.
Annie's Canyon: about 15 miles downstream from Halls Crossing marina. A beautiful moderate length canyon that also has great hiking.
Escalante Arm: About 35 miles downstream from Halls Crossing. Nearly any of the side canyons in the Escalante arm offer some premier paddling and hiking experiences. Alcoves, arches, rock art, hanging gardens, and more abound in this region. If your party has a runabout this may oprovide some paddlers a quicker way to get to this location.
Concessioner-provided shuttles are also usually available.