Guided Tours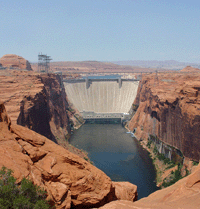 Tours of the Glen Canyon Dam
The
Glen Canyon Natural History Association
provides tours of the Glen Canyon Dam. The dam is a Federally owned facility, therefore security meaures are in place. You will be passing through a metal detector, and armed guards are in place throughout the facility. No knives or any weapons will be permitted in the building. Bags and purses are prohibited on the tour. Your wallets and cameras are welcome. Food and beverages are prohibited, but feel free to bring in a water bottle. Please visit the Glen Canyon Natural History Association's
webpage
for more information about tours of the Glen Canyon Dam.
Boat Tours on Lake Powell
Lake Powell Resorts and Marinas (Aramark) provides boat tours on Lake Powell. Contact them at 1-800-528-6154 or at www.lakepowell.com.
Lake Powell Northlake Special Charters provides boat tours of the upper Lake Powell area. Contact them at 435-684-3062.
Other Guided Tours
Visit our concessioner page to find a list of companies that provide tours in Glen Canyon National Recreation Area.


Did You Know?

Interested in Cliff jumping and diving in the Lake Powell? NO WAY! Cliff jumping and diving is both illegal and deadly. More...