Glen Canyon Interactive Map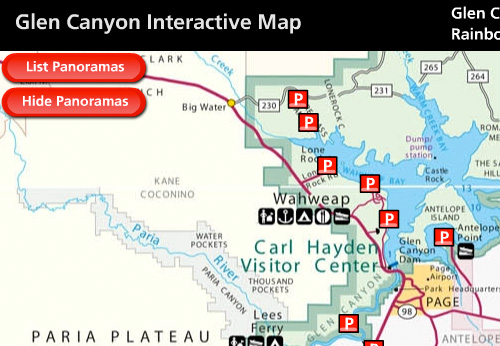 Have you ever wanted to know what an area was like before you visited? Explore Glen Canyon and Rainbow Bridge in virtual reality! You can move this map around and select fully interactive 360 degree panoramas from around Glen Canyon and Rainbow Bridge. Right now we have 13 virtual reality panoramas in the map with more coming soon.
You will need the latest version of Adobe Flash Player to use this map. Disable any popup blockers.
---
Available Panoramas in Map:
Horseshoe Bend
Rainbow Bridge
Wiregrass Bridge Upper
Wiregrass Bridge Lower
Confluence of the Colorado River and Dirty Devil River (2)
The Descending Sheep Petroglyph Panel
Defiance House Ancestral Puebloan Ruins (2)
Muley Point
Moki Dugway
The Coves Swimming Area
Lone Rock Beach Recreation Area / Campground
Lake Shore Drive Scenic View Point
Antelope Point Marina
Did You Know?

Interested in Cliff jumping and diving in the Lake Powell? NO WAY! Cliff jumping and diving is both illegal and deadly. More...