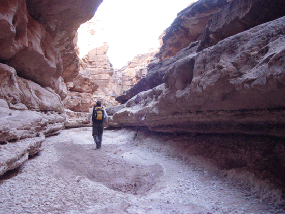 Description: Your hike begins in Glen Canyon NRA. As you descend into the wash, you will travel through the Kaibab Limestone and Toroweap Formations of the Grand Canyon Group. Many interesting formations and fossils may be seen. A wide variety of plants both native and exotic can be found. The wash is teeming with life. You may encounter bighorn sheep, coyote, a variety of birds, insects and reptiles. YES, we do have rattlesnakes. As you reach the bottom of the wash, you will be awe struck by the beauty of the Colorado River, Cathedral Wash rapid and Grand Canyon National Park.
Area Information: A wide variety of information is available at the Lees Ferry Ranger Station and at the Navajo Bridge Interpretive Center.
Suggested hiking items:
WATER: MINIMUM 2 QUARTS 2 QUARTS PER PERSON MANDATORY

Sack lunch/snacks

Sunscreen

Hiking shoes

Camera/extra film

Binoculars

Geology/bird/reptile/plant identification books

First Aid kit

Hat
Special Regulation: No overnight camping or pets are allowed in the Grand Canyon National Park portion of this hike. Collecting specimens of any kind (fossils, plants, reptiles, flowers, rocks, etc.) is prohibited.
For more information on this or other hikes in the Lees Ferry area, contact the Lees Ferry Rangers at: (928) 355-2234.