Glen Canyon Road Construction News
Lakeshore Drive Construction:
January 11, 2016 through May 2016.
Wahweap South entrance to four-way intersection closed.
Use Wahweap North entrance.
UPDATE Jan 8, 2016
Lakeshore Drive will officially close on Monday, January 11 from the south entrance on Highway 89 to the four-way intersection near the Wahweap Ranger Station. All traffic will be routed through the north entrance, although access to launch ramps, businesses, and other services will still be available.
Boaters are encouraged to launch at Stateline launch ramp as a way to minimize inconvenience and delays caused by the construction.
For assistance in transporting vessels larger than 30 feet in length or 8 feet in width please call (928) 608-6200 for more information on how to transport through the construction at the four-way intersection more efficiently.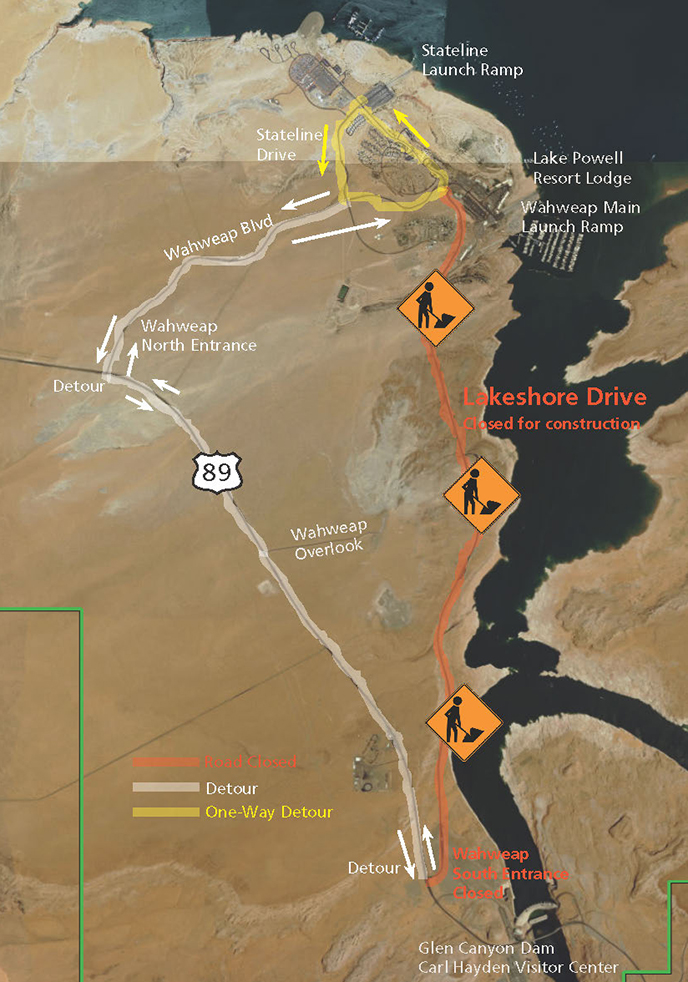 NPS Map
The National Park Service began a Federal Highway Administration project that will rehabilitate Lakeshore Drive from Hwy 89 at the south entrance of the recreation area to the Wahweap Marina. Initial work on the project began November 30 at the four-way intersection near the Wahweap Ranger Station. Lakeshore drive will be closed starting January 11, 2016 from the Wahweap South Entrance to the four-way intersection. The intersection will remain accessible and other areas of the marina are not expected to be impacted. All traffic into and out of the marina will be detoured through the Wahweap North Entrance on Wahweap Drive until work is completed in May 2016.
This extensive Federal Highway Administration project will replace all road surfaces, culverts, guardrails and signage along the length of Lakeshore Drive. The four-way intersection will be widened and asphalt will be replaced with concrete to accommodate large and heavy houseboats being trailered to and from the Wahweap main launch ramp.
Every effort is being made to limit inconveniences and minimize delays to visitors and businesses during this process. Work is expected to be complete by early spring.