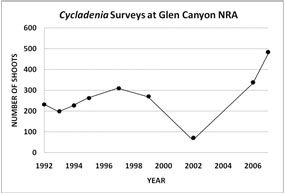 NPS
About 40 Colorado Plateau endemic plants are found in Glen Canyon National Recreation Area (NRA), 20 of which are considered to be rare in Utah and Arizona. Some plants will grow only on certain
geologic formations
. For example, Jones cycladenia (
Cycladenia humilis
var.
jonesii
) is only found in Southeastern Utah and Northern Arizona on Chinle, Cutler, and Summerville Formations. It was federally listed as a threatened species in 1986 and is monitored by the National Park Service. Jones cycladenia was probably present during the Pleistocene ice age and it has been suggested that its original pollinator is no longer around, which may limit its reproduction. The most pressing threats to Jones cycladenia are climate change, which affects the fragile and small habitat it exists on, the potential for mineral and gas exploration, off-road vehicles in some areas, and consumption by herbivores. Other local species include Atwood's evening primrose (
Camissonia atwoodii
), Higgin's desert parsley (
Cymopterus higginsii
) and tropical goldeneye (
Heliomeris soliceps
), the latter two found only on the Tropic Shale Formation north of Lake Powell along the Warm Creek road and around Big Water, Utah.