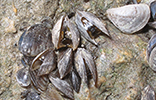 NPS Photo
As of May 2014, thousands of adult quagga mussels have been found in Lake Powell, attached to canyon walls, the Glen Canyon Dam, boats, and other underwater structures. We expect to find additional adult mussels as the season progresses.
It is crucial to keep the mussels from moving from Lake Powell to other lakes and rivers. Utah and Arizona state laws require you to clean, drain, and dry your boat when leaving Lake Powell using self-decontamination procedures. Additional steps are required if you launch on other waters without a significant drying period or if you are on Lake Powell for more than 5 days. Regulations vary depending on the state, so all boaters should review the regulations of any state they will enter with their watercraft after being at Lake Powell, including Utahand Arizona.
Read the most up to date information on mussels at Glen Canyon here.