Frontier Children
WELCOME
Welcome to Glen Canyon National Recreation Area's webpage for Frontier Children. Not too long ago this very remote section of the United States was known far and wide as the "Wild West." In fact, many places in Glen Canyon are still extremely remote and the towns and small communities surrounding the park are few and far between. And how did these communities come to exist? Many of them, like the Lees Ferry Historic District along the Colorado River below Glen Canyon Dam, were formed by western settlers. We are indebted to the Native Americans, Mormon settlers, miners and cowboys who came before us for experiencing the joys and the hardships of this vast desert landscape as true pioneers. This webpage specifically acknowledges the cunning and resilient children of the southwest's history who used their experiences to shape what this region has become today. These experiences range from Malcolm Cummings-a 10 year old boy who traveled through canyon country on the 1909 Douglass-Cummings Expedition for the first discovery of Rainbow Bridge by Anglos-to the children of the Hole-in-the-Rock journey which led 250 Mormon settlers and 83 wagons to create a trail of switchbacks down a notch in a canyon cliff to cross the Colorado River and settle in Bluff, Utah.
As we celebrate the 100
th
anniversary of the state of Arizona in 2012, we invite you to join us in remembering the rich history of Glen Canyon through the eyes and minds of these children.
ACTIVITIES
Children can play this interactive game to become a
Junior Wagoneer
and learn more about how young settlers traveled with their families by wagon to reach their destinations.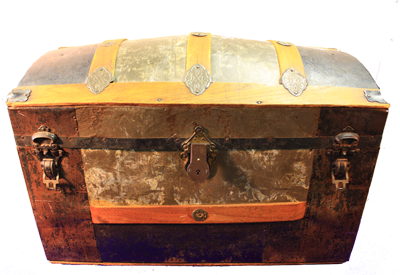 Coming fall 2011… Our education staff also offers programs with our Frontier Children trunk to tell the stories of pioneers and their tools and technologies. These thematic programs link children of today to those of the past and use those comparisons to help students try to predict what kind of lifestyle future children might live. Our ranger talks on frontier children also focus on the importance of recycling to pioneers of the past and the relevance of reduce, reuse and recycle concepts today. Please contact our Education staff to learn how these subjects can be used in your classroom today!

Contact Katie Wood by e-mail or at (928)608-6352 to learn more.