Graffiti Removal and Intervention Team
Stay tuned for new information about the relaunch of the GRIT program.
Graffiti
is a widespread problem within Glen Canyon NRA
impairs visitors' enjoyment
is carving into rocks
is painting on walls
is illegal
Glen Canyon NRA has developed the Graffiti Removal and Intervention Team (GRIT) program in order to remove non-historical graffiti from rock faces and sandstone walls, and from shoreline areas within the park. Graffiti is removed using water and wire brushes.
Take a five day trip aboard the "True GRIT" houseboat. Trips leave from Antelope Point Marina, Arizona. Destinations will vary on each trip. Trips are limited to 4 people plus the captain. Crew members need to bring personal gear, breakfast and lunch for all days, and provide one dinner for all crew members on one night of the trip.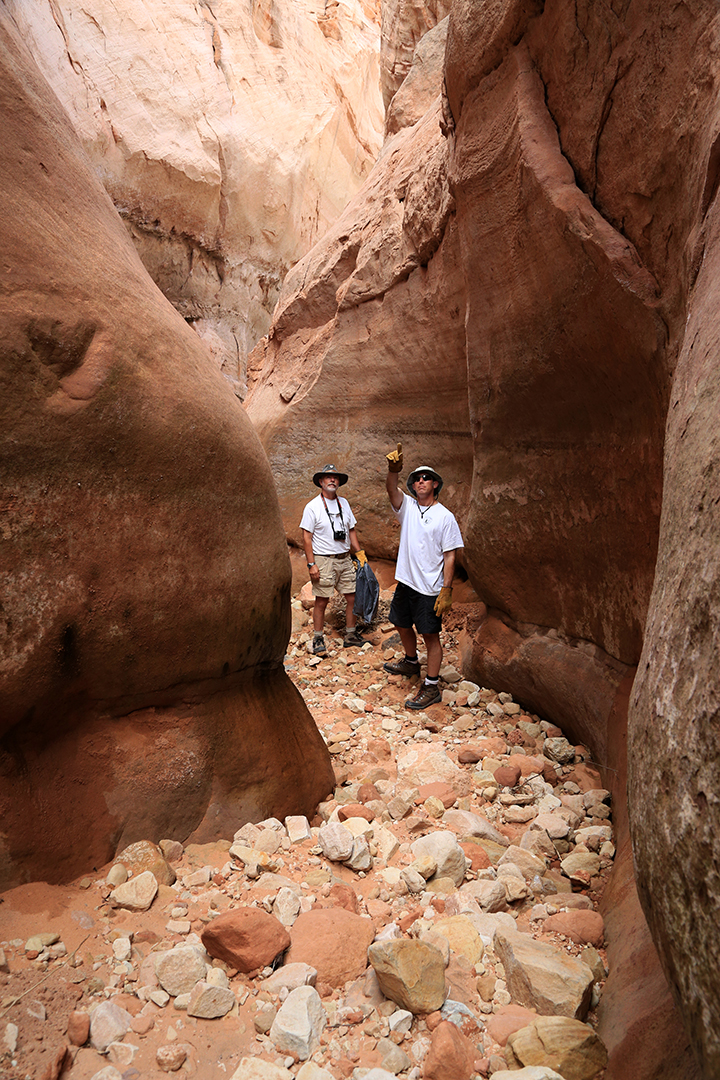 Bob Moffitt
If you are interested in helping restore Glen Canyon NRA to its natural state please consider joining the GRIT team.
Please read all the information on the links thoroughly and keep in mind that it is essential the GRIT volunteers be in good physical condition and health, since duties involve walking over sometimes rough or slick terrain, lifting, and being out in the sun for prolonged periods of time.
There will be no Spring 2015 True GRIT trips.
In the interest of fairness to all applicants, here is how the application proccess will happen. No applications will be accepted before 7:00 am MST on February 1, 2013. All faxes, emails, and phone calls come with a time stamp, and will be processed in the order they are received. If an application comes in before 7:00 am, it will be put on the bottom of the pile of applications. Once your email or phone application request is received, your paper application needs to be mailed or faxed in within a week.

Questions and/or reservations may be directed to 928-608-6350, or True GRIT Reservations.

To apply: please fill out all forms provided and mail to the address below or fax to 928-608-6259.
Glen Canyon NRA: Attn-True GRIT
PO Box 1507
Page, AZ 86040
Use the Calendar to make your choices for the 2013 season.
Trips are subject to change and/or cancellation.