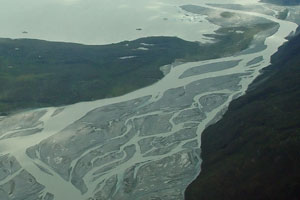 Early Settlement
The original inhabitants of Dry Bay were a mingling of Tlingit from the coast and Athabaskan from the interior. Important seasonal activities included salmon fishing in late spring and summer, hunting along Dry Bay for waterfowl and in the adjacent mountains for mountain goat and bear in fall, and trapping during the months of winter. Gull eggs, plants, and berries supplemented the diet of Dry Bay people.
The Alsek River provided an important trade corridor. During winter, journeys were made on foot to trade seal skins, seal oil, dried seaweed, and cakes of dried strawberries with interior Athabaskan near today's Dalton Post. In spring, returning in dugout canoes with native copper, white marble, skin garments, and soapberries in birch bark boxes, Dry Bay people prepared for similar visits from their northern trading partners. Due to the assimilation of cultures, Dry Bay Tlingit came to speak a dialect unlike that spoken in Yakutat.
Native Dry Bay settlements appear to have been abandoned by 1910. Construction of a cannery in Dry Bay that year hastened the transition from year-round village life to seasonal stays in summer fish camps. Many Dry Bay people moved to Yakutat since the company provided transportation from town to Dry Bay during the fishing season.