Landslides and Giant Waves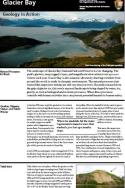 Geology in Action!

The landscape of Glacier Bay National Park and Preserve is ever changing. The park's glaciers, steep rugged slopes, and magnificent views attract over 400,000 visitors each year. Glacier Bay is also a natural laboratory drawing scientists from around the world to study its dynamic environment. The natural processes that formed this impressive terrain are still very much at work. Recently released from the grip of glacier ice, this newly exposed landscape is being shaped by water, ice, gravity, as well as biological and tectonic processes. When these processes coincide with human activities they can present potential hazards to human safety.
The combination of recent deglaciation, relatively frequent earthquakes, steep rocky slopes, and narrow inlets suggests that many locations in Glacier Bay have the potential for generating large tsunami waves.
Did You Know?

In 1899, an earthquake measuring 8.4 on the Richter Scale so shook the glaciers in Glacier Bay, the budding tourism industry nearly died. There was so much ice in the water from the shattered glaciers, visitors to Glacier Bay did not return to for over ten years.