Boating Distances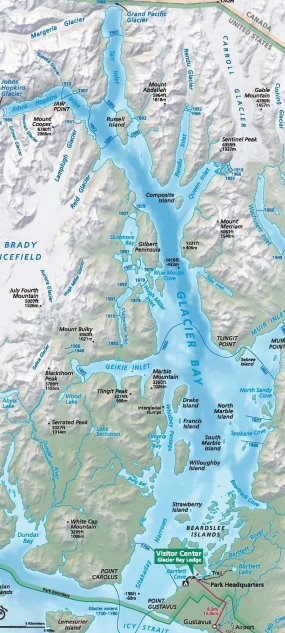 IN NAUTICAL MILES (rounded off)
BARTLETT COVE TO:
SOUTH MARBLE ISLAND 15.0
NORTH SANDY COVE 20.0
SEBREE ISLAND/TLINGIT PT. 22.5
RIGGS GLACIER 41.0
MUIR GLACIER 47.5
REID INLET 44.0
MARGERIE GLACIER 55.0
JOHNS HOPKINS GLACIER 63.5
SEBREE ISLAND/TLINGIT PT. TO:
MCBRIDE GLACIER 18.5
RIGGS GLACIER 21.0
MUIR GLACIER 27.5
ADAMS INLET 07.5
BARTLETT COVE 22.5
WACHUSETT INLET 13.0
SCIDMORE CUT TO:
MARGERIE GLACIER 23.0
JOHN HOPKINS GLACIER 19.0
BLUE MOUSE COVE 09.5
GEIKIE ENTRANCE TO:
HEAD OF GEIKIE INLET 06.5
BLUE MOUSE COVE 09.0
BARTLETT COVE 22.0
POINT TO POINT
SEBREE TO GEIKIE 08.0
SCIDMORE TO GEIKIE 16.0


Did You Know?

A red squirrel eats the seeds of about 144 spruce cones each day. This diet allows red squirrels to thrive in the spruce-dominated forests of Lower Glacier Bay. How many spruce cones do you eat each day?