Boating Distances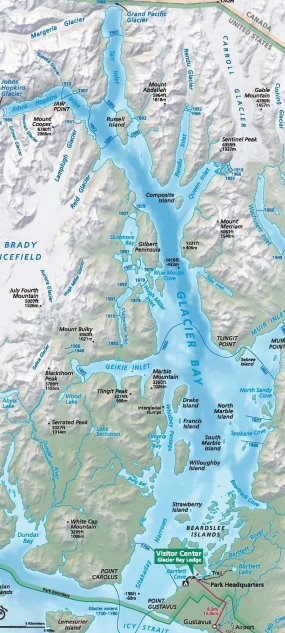 IN NAUTICAL MILES (rounded off)
BARTLETT COVE TO:
SOUTH MARBLE ISLAND 15.0
NORTH SANDY COVE 20.0
SEBREE ISLAND/TLINGIT PT. 22.5
RIGGS GLACIER 41.0
MUIR GLACIER 47.5
REID INLET 44.0
MARGERIE GLACIER 55.0
JOHNS HOPKINS GLACIER 63.5
SEBREE ISLAND/TLINGIT PT. TO:
MCBRIDE GLACIER 18.5
RIGGS GLACIER 21.0
MUIR GLACIER 27.5
ADAMS INLET 07.5
BARTLETT COVE 22.5
WACHUSETT INLET 13.0
SCIDMORE CUT TO:
MARGERIE GLACIER 23.0
JOHN HOPKINS GLACIER 19.0
BLUE MOUSE COVE 09.5
GEIKIE ENTRANCE TO:
HEAD OF GEIKIE INLET 06.5
BLUE MOUSE COVE 09.0
BARTLETT COVE 22.0
POINT TO POINT
SEBREE TO GEIKIE 08.0
SCIDMORE TO GEIKIE 16.0


Did You Know?

When Captain George Vancouver surveyed Southeast Alaska in 1794, the wall of ice that filled the bay was (at its greatest extent) 100 miles long, 20 miles wide, and 4,000 feet thick. Just 250 years later, this same ice has retreated 65 miles, the fastest glacial retreat on record.