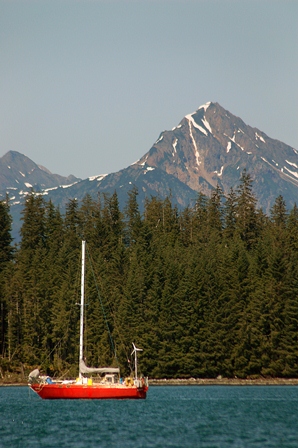 Boater permit applications for the non-fee permit must be made within 60 days of the proposed date of entry. Permit applications received earlier than 60 days in advance will be returned to the sender. Applications will be reviewed upon receipt and a response form will be sent to the applicant. Advance application is strongly advised, particularly from June 11 through August 2, as permits are limited. You may reserve up to seven consecutive days.
In planning your trip, please note that pets are not allowed on shore anywhere in Glacier Bay National Park except on a leash at Bartlett Cove. Before arriving at Glacier Bay you may want to be familiar with other park regulations, particularly those that apply to boaters.
All boaters are required to call immediately upon entering the bay and proceed directly to the Visitor Information Station in Bartlett Cove for a required boater orientation prior to continuing into the bay. Watch the video
Please email, mail, fax, or phone requests for an application, completed applications, or requests for further information to the address below.
Glacier Bay National Park and Preserve
PO Box 140
Gustavus, AK 99826
e-mail us
(907) 697-2230,
Fax (907) 697-2654
(October through March)

(907) 697-2627,
Fax (907) 697-2647
(April through September)

VHF marine radio Channel 12 or 16, KWM20 BARTLETT COVE during regular business hours.
Confirming Your Permit
A response form will be sent to you upon receipt of your completed application, denying or accepting your preferred entry dates.

Please confirm your permit reservation within 48 hours of your scheduled entry date and no later than 10:00 am on your date of scheduled entry by telephone, VHF radio or marine operator. Permits not confirmed by 10:00 am on the entry date will be cancelled. You must enter on the first day of your scheduled permit unless space allows for a change in entry date; contact the Visitor Information Station if you foresee a change in your plans.

Vessels are required to call Bartlett Cove upon entering Glacier Bay (Pt. Gustavus across to Pt. Carolus).

The skipper is required to stop at the Bartlett Cove Visitor Information Station for a brief boater orientation with current information on resource protection regulations, good anchorages and other boating information to help you have an enjoyable and safe trip in Glacier Bay. This orientation is required each year for returning skippers.