Glacier Bay Youth Newsletter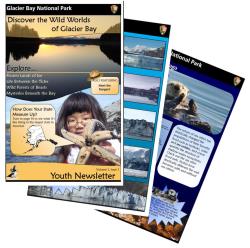 Hey Students,
Would you like to learn more about the unique habitats and wildlife found in Glacier Bay National Park? Do you need to research a report about Glacier Bay? Check out our NEW 16-page Youth Newsletter and discover for yourself what's so special about Glacier Bay.
INSIDE:
Wildlife Biomes
Glaciers
The Intertidal Zone
Forests
Mysteries Beneath The Bay
Meet the Rangers!
...and much more!