Distance Learning
Survivor Glacier Bay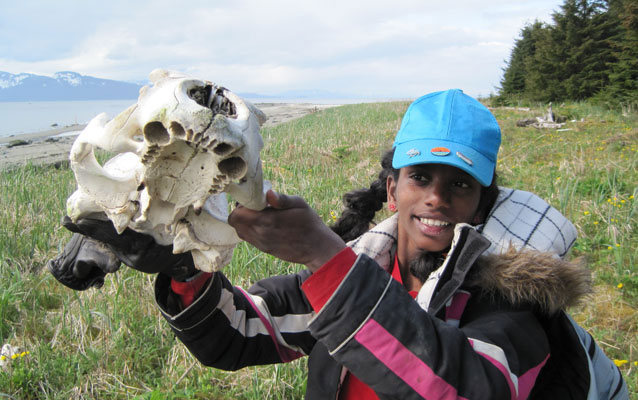 Live Videoconference with a Park Ranger!
We bring the ranger to YOU
Lesson Overview
Glacier Bay is a vast wilderness that is home to many animals, including birds, mammals, fish and, historically, people. Each animal has special adaptations to survive in the cold waters and snowy mountains of Glacier Bay.
Grade Levels: 3rd-5th
Time requirement: 45 minutes
Lesson Objectives
By the end of the lesson, students will be able to:
Describe the basic differences between mammals, birds, and fish.

Describe why the Tlingit left Glacier Bay.

Share at least 3 things scientists can learn from skulls including teeth.
How to Participate
Have you ever wanted to take your students into the wilds of Glacier Bay, Alaska, but your boat wasn't big enough? Well now our Park Rangers can bring Glacier Bay directly to YOU.
If your school has video conferencing equipment, your class now has the opportunity to experience a LIVE interactive visit with a park ranger at Glacier Bay National Park. During the program, students will be interacting with the ranger, answering and asking questions!
Our programs are curriculum-based (designed to meet Alaska state teaching standards) and are appropriate for grades K-5. The programs are free and a great way to introduce your students to this amazing national park and to the vast state of Alaska.
2015 Scheduling and Registration:
Rangers will be available to present programs in January and February, 2015.
Spaces are limited, and programs are scheduled on a first-come, first-served basis.  All programs are conducted using Polycom videoconferencing equipment.
We will start taking program reservations on October 1, 2014. 
If you have further questions, please contact:
Steve Schaller
Glacier Bay Education Coordinator
(907) 697-2650
Email me
Details
Subject:

Biology: Animals, Conservation, Ecology, Environment, Glaciers, Marine Biology, Oceanography, Wildlife Biology

National/State Standards:

NS. K-4.3 Life Sciences:
Characteristics of Organisms, Life Cycles of Organisms, Organisms and their Environments

NS. K-4.6 Personal and Social Perspectives:
Types of Resources, Changes in Environment

type:

Distance Learning
Experience More
on NPS.gov
Lesson Plans
Distance Learning
Field Trips
Topics