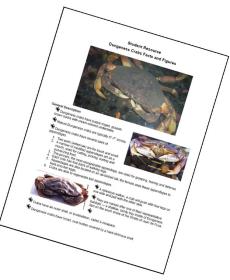 3. Illustrate Life History of Dungeness Crabs

Now, distribute the Student Resource: Dungeness Crabs: Facts and Figures and, if appropriate, share the resources among these same groups. Give them time to read the resources and, then, illustrate the Life History of Dungeness Crabs in Glacier Bay National Park and Preserve. Have students coordinate their display with the display of human life history created in Step 2 to allow for easy comparison.
Note: They can use pictures from the Crab Gallery found online to complete their displays. (See Resources below.)


4. Discussion to Compare Illustrations

When the display is complete, hold a brief discussion comparing the two species. Assuming crabs could speak "human," or vice versa, how would each species describe its life to the other to foster understanding and mutuality? If appropriate, have student teams stage skits to illustrate the lives and times of a Dungeness crab in Glacier Bay National Park and Preserve.



Answer: Answers will vary. However, instruct students to include as much biological detail as possible in their discussions and skits.