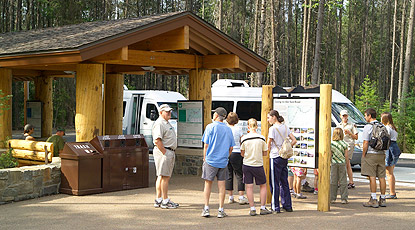 David Restivo, NPS
Due to the current Wildland Fire on the eastside of the park the shuttle is only running between Apgar Visitor Center and Logan Pass. Check back for updates as they become available.
As more and more questions about Glacier's shuttles come up, this list will expand. Continue to check back, you never know if your question will be here.
Why did you implement a shuttle system?
The Going-to-the-Sun Road Rehabilitation includes meeting the challenge of keeping the Going-to-the Sun Road open for visitors while also supporting the road construction during the short season that the road is open. One way that we will do this is to voluntarily remove some of the traffic congestion through bus ridership.
---
How much does it cost to ride the shuttle system?
Once you pay your normal entrance fee you are authorized free and unlimited access to the shuttle.
---
What are the hours of operation?
Please see our Shuttle Stop page.
---
Is riding the shuttle mandatory?
No, riding Glacier's shuttle is completely voluntary.
---
What can I expect from riding the shuttle?
Riding the shuttle is very similar to riding in your car, except you don't have to worry about keeping your eyes on the road and can enjoy the Glacier experience.
---
What should I bring when I ride the shuttle?
Parking your car for the day and using Glacier's shuttle requires a little self sufficiency. From bringing plenty of water in a water bottle, to extra clothing and snacks, below is a list of items you should bring whit you when using the shuttle.
A daypack to hold all of your stuff.
Proper clothing (including rain gear) for fickle mountain weather. Layers work best.
Proper footwear.
Plenty of water in a water bottle. Bottled water, and drinking water in general, is not available at all of our shuttle stops. See what shuttle stops access drinking water.
Enough snacks or lunches for a whole day. Staying nourished with food and hydrated with water throughout the day will help keep you safe and feeling strong.
The Waterton-Glacier Guide newspaper for easy on-the-spot information.
Sunscreen, hat, and sunglasses - avoid sunburns and heat illness.
Bear Spray.
Camera.
---
How long will I have to wait at a shuttle stop?
A shuttle will arrive every 30-60 minutes. If a shuttle is full, simply wait and enjoy the area until the next one arrives. We are committed to doing our best to get you to your destination in a timely fashion.
---
Are the shuttles and shuttle stops ADA accessible?
All Glacier shuttles will be Americans with Disabilities Act (ADA) accessible, including either a wheel chair ramp or lift, and lock downs. Drivers will announce stops including whether each individual stop meets normal standards for accessibility. There may be shuttle stops not fully compliant with ADA standards due to the unique challenges along this historic route. A wheelchair-accessible icon on shuttle signs will designate accessible restroom facilities.
---
I'm traveling with children, can I bring a stroller on the shuttle?
You are welcome to bring a stroller if it will fit through the doors. West side shuttle doors are 28 inches and St. Mary shuttle doors are 36 inches.
---
Do I need to bring my child's car seat on the shuttle?
Car seats are not mandatory.
---
I'm bringing my bike, do the shuttles have bike racks?
Yes, some, but not all of the shuttles on the Westside have bike racks. Eastside shuttles have bike racks too. Each bike rack holds 2 regular-sized bikes. Tandem bikes will not fit on the bike racks.
---
Is there enough room on the shuttles for backpacks?
Backpackers and day hikers are most welcome on the shuttles. There will be limited storage capacity on the buses especially when every seat is full. Visitors with packs should be considerate of other riders by lifting packs out of the aisles at stops and not using two seats when a person is waiting to sit down.
---
Is there enough room on the shuttles for luggage?
There is very limited space on the shuttles for luggage. Visitors traveling with multiple pieces of luggage will find it difficult to board with luggage.
---
How comfortable are the shuttles to ride?
The shuttles will have air conditioning and comfortable seating with large windows for viewing.
---
Will I get sick riding the shuttle?
The shuttle experience goes through some of the most spectacular scenery and winding roadway in North America. If you do experience motion sickness, you are welcome to get off at the next stop, stretch your legs and get on the next bus. In the rare event that you actually need motion sickness bags, they will be provided. As a suggestion, if you are prone to motion sickness, you might want to sit in the passenger seat next to the shuttle driver on the smaller shuttles.
---
Why don't the shuttle drivers provide commentary?
Glacier's shuttles are point-to-point transportation shuttles only, and not a tour service. Shuttle drivers are primarily concerned about your safe and comfortable ride. They will provide basic information at each stop. Should you desire a more in depth guided experience, there are two great interpretive tour options on the Going-to-the-Sun Road; the historic Red Buses, and Sun Tours, which highlights Glacier's Blackfeet heritage.
---
What if I miss the shuttle, will I be left behind?
If you miss a shuttle arrival, simply enjoy the view until the next one arrives. It will be important that you are aware of the time the last shuttle departs from each location.
---
What are the shuttle stops like?
The Going-to-the-Sun Road is a National Historic Landmark. The rehabilitation of the road is intended to sustain this unique national treasure in its current form and historic character. Improvements such as transit stops are being incorporated slowly in full coordination with park landscape and historic architectural experts, as well as with the Federal Highway Administration highway construction team. Stops will be identified by distinctive signage and benches. In the future, stops will be improved as necessary and in compliance with the historic character along the road.
Passengers should be aware that the weather can change at any minute in the mountains. Please bring appropriate clothing with you as you travel.
---
Are there restrooms at every shuttle stop?
No, not every shuttle stop has restroom facilities. See the Shuttle Stops page for information on which stops have restrooms so you can properly plan breaks.
---
Do I need a ticket to ride the shuttle?
No, your entrance fee into the park provides free and unlimited access to the shuttle system.
---
Do shuttles stop at all of the campgrounds on the Going-to-the-Sun Road?
Shuttles will stop at Apgar Campground, Sprague Creek Campground, Avalanche Campground, and Rising Sun Campground. Visitors staying at St. Mary Campground will need to make the short walk to the St. Mary Visitor Center to ride a shuttle.
---
Why do you have two different styles of shuttles?
The two different types of shuttles are a compromise to meet the challenges of operating along the tight, winding, and sometimes narrow Going-to-the-Sun Road with low clearance in some spots, while maximizing the number of passengers we can put on a shuttle. We are using smaller shuttles in the high alpine region to accommodate those issues, and larger shuttles everywhere else on the Going-to-the Sun Road.
---
How is the shuttle powered, and is it environmentally friendly?
Both styles of shuttles in use can operate using Bio-diesel fuel. Both will also feature modern low emissions engines that meet or exceed current emissions requirements. The smaller shuttles are rated at 22 miles per gallon which is exceptional for a vehicle of this style and function.
---
What is the capacity of the different shuttles?
Smaller shuttles seat 12 and 16 passengers with no people standing. The larger shuttles seat more than 20.
---
How long will I be on the shuttle between stops?
The time between stops varies with distance and to some extent, location along the road. Road construction and animal sighting delays will also play a factor. Consult the detailed bus schedule for the approximate times on each route. Travel times on the shuttle are virtually the same as driving your personnel vehicle plus a short time at each stop.
---
How long will it take to get to Logan Pass?
The approximate time from the Apgar Visitor Center to Logan Pass is 1.5 - 2 hours. The approximate time from the St. Mary Visitor Center to Logan Pass is 1 hour.
---
How often does the shuttle make stops?
Each stop along the Going-to-the-Sun Road is linked to a significant feature at that location. The shuttles will run on either 30 minute or 60 minute intervals dependent on time of day and shuttle type. Travel times on the shuttles are virtually the same as driving in your personnel vehicle plus a short time at each stop.
---
Can I get off the shuttle at any time, or just at designated stops?
In order to keep the buses on schedule they will only stop at designated stops.
---
What if a shuttle is full when it arrives and I have to wait for another shuttle; what happens if that next shuttle is full?
If a shuttle is full, simply wait and enjoy the view until the next one arrives. We are committed to doing our best to service you and get you to your destination in a timely fashion.
---
How do I get to other parts of the park that the shuttle doesn't go to?
Glacier National Park Lodges offers a fee-based shuttle between Many Glacier connecting to the shuttle at the St. Mary Visitor Center. www.glaciernationalparklodges.com. There are no public transportation options available in the North Fork area of the park.
---
Does the shuttle system stop at the train station in West Glacier?
No, Glacier's shuttle system only operates on the Going-to-the-Sun Road and in the Apgar area at this time.
---
What if I lose or find an item on the shuttles; who do I give found items to, and where can I find what I lost?
If you find an item on one of our shuttles, please give it to the shuttle driver so they can turn it into the park. If you lost an item, please visit one of our visitor centers or ranger stations to fill out a lost slip. You may also call the Chief Ranger's office at (406) 888-7820 to see if a lost item was turned in. As items are found and turned into the park, we notify the owners if a slip had been filled out.
---
What are recommended ways of using the shuttle?
If you are visiting for the day, park your car at the Apgar Visitor Center or St. Mary Visitor Center and hop on a shuttle there. Return via a shuttle to get your car.


If you are camping in a campground, use your campground as a base camp and hop on a shuttle at the campground to explore the park. St. Mary Campground campers can walk to the St. Mary Visitor Center to use the shuttle.


If you are traveling by a large RV that is restricted from traveling across the Going-to-the-Sun Road, park at the Apgar Visitor Center, St. Mary Visitor Center, your campground, and use the shuttle to explore the park.


Use the shuttle to do "shuttle friendly" day hikes or backpacking trips where you end your hike at a nearby shuttle stop.


Use the shuttle in conjunction with our concessioners for activities like horseback rides, boat tours, and motorized vehicle tours.


The Going-to-the-Sun Road and can be a nerve-wracking driving experience for some. Sit back on a shuttle and let someone else do the driving.


Glacier's shuttles should not be confused as a tour service. Sun Tours and Glacier National Park Lodges offer group tours with commentary.
---
I'm traveling with a tour bus service or large group, what can I expect?
Visitors traveling in large groups are more than welcome to use Glacier's free shuttle after paying an entrance fee, though there a few things to consider.
Large groups may have to separate over several buses to reach their destination.


You should allow plenty of time if you choose to travel by this means across the park.


To accommodate the influx of passengers at one spot, there may be a wait before enough shuttles are available.


Glacier National Park's shuttle service is a point-to-point transportation service only. As an alternative, motorized tours on the Going-to-the-Sun Road can be arranged with Glacier National Park Lodge's Red Buses or with Sun Tours.
---
Where is the best place to sit on the shuttles?
Every seat on the shuttle will provide plenty of views. The back seats on the smaller shuttles tend to be a bit bumpier than other seats, but drivers, knowing the bumpy spots on the Going-to-the-Sun Road, drive slowly through those areas.
---
Why should I use the shuttle?
There are almost as many reasons to ride the shuttle as visitors in the park. One of the biggest reasons is that it does not cost extra beyond your normal entrance fee. You should ride the shuttle if it can enhance your experience in Glacier, either by leaving the driving to a professional, or to better support your sightseeing, backpacking, day hiking, or other Glacier experience. You can also ride the shuttle and know that you are making a measurable contribution to reducing atmospheric emissions in this pristine environment, reducing the impact on global climate change. Finally, you might just save a few dollars better invested on a souvenir from your adventure in Glacier by parking your car and riding the shuttle.