Reduce Your Footprint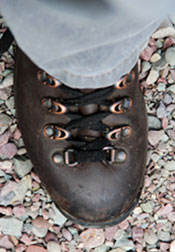 Here are some tips to reduce your footprint when visiting Glacier National Park:
Observe Leave No Trace principles

-Take only photos; leave only footsteps
-Stay on trails in a single file line
-Rest on resilient surfaces like rocks and snow
-Camp only in designated areas
-Pack out all trash
-Learn more...
Use a reusable water bottle
Avoid idling your car when waiting in line...instead, turn the engine off
Bike or walk whenever possible
Take the free shuttle
Bring your own reusable dishes and silverware and reuse plastic zip-top bags
Review regulations for boat checks to minimize the possibility of introducing aquatic invasive species
Recycle near the entrance and exit of every campground

-Translucent plastic #1 and #2 (please remove caps)
-Aluminum
-Unfortunately, glass recycling is currently not available in the Flathead Valley
Did You Know?
In 1974, 93% of Glacier National Park was recommended as Wilderness. To this day, over 93% of Glacier's backcountry is managed as Wilderness.