Help Stop Aquatic Invasive Species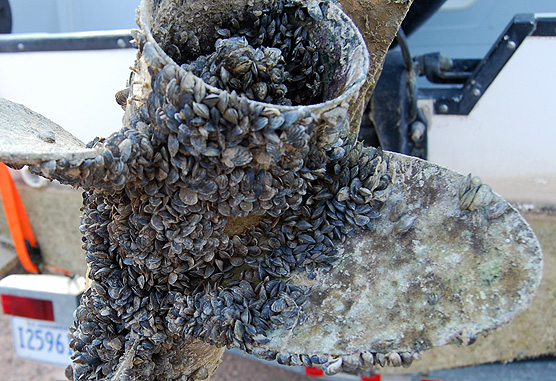 NPS Photo
Waterton-Glacier International Peace Park is dominated by large fjord-like glacial lakes. For many visitors they are a primary destination. Boating, fishing, or just plain hanging out on the shore and skipping rocks consume many a relaxing hour and are the stuff of magical memories. We need your help to keep it that way.
On the surface things look fine, but in the past stocking of non-native fish changed the ecosystems of most park lakes. These fish out compete native species for food and habitat. We need to prevent additional non-native species of animals or plants from accidentally being introduced, because each small change effects the overall health of park waters.
Don't Move a Mussel
Now there is a new and serious threat. Imagine a future where going to your favorite rock-skipping beach, you find the shoreline matted with tens of thousands of small mussel shells, with everything cemented together in a sharp, smelly mess. Imagine once productive fisheries wiped out by these new invaders. It's not science fiction, impacts are already occurring in waters in the Great Lakes, eastern provinces and states, the prairies and plains, and more recently in the southwest United States.
Since the 1980's freshwater zebra and quagga mussels have steadily advanced westward, transported on trailered boats. Very recently, a mussel-carrying boat was intercepted at a marina on Flathead Lake. The boat had come from the southwest. Flathead Lake is just downstream from Glacier.
Protecting the waters of the Peace Park requires immediate action, both by the parks and by every boater.
Glacier National Park Permit Regulations
A free permit, requiring an NPS boat inspection is required to launch any motorized or trailered watercraft, except for hand-propelled watercraft in Glacier National Park.


Hand propelled watercraft, such as canoes, kayaks, rowboats, rafts, and catarafts require a free self-certification permit. A new permit is required upon each entry into the park. A boat may launch multiple times provided the boat does not leave the park between launches.


A thorough inspection is required for each motorized boat permit. Park inspectors will gladly inspect hand propelled watercraft on a voluntary basis.


Inspections may take upwards of 30 minutes, depending on the complexity of the boat. Boaters should plan on additional time for inspections.


To receive a permit, boats must be clean, drained and thoroughly dry (including bilge areas and livewells) upon inspection.


Inspectors may hose down the outer hull and motor areas of boats to remove road grime. This is only to facilitate inspection. It is not a decontamination procedure and dirty boats, boats that arrive with any standing water in the boat (including livewell and bilge areas), and boats with inaccessible internal ballast tanks will not be issued a permit. CLEAN, DRAIN, DRY your boat prior to arrival in Glacier.


Though launch hours are not restricted, inspection hours are limited. Hours vary throughout the park and will be adjusted seasonally. Between Memorial Day and Labor Day, permits are available from 7:00 a.m. to 7:00 p.m. at Park Headquarters and 8:00 a.m. to 4:30 p.m. at all other locations - St. Mary Visitor Center, Two Medicine Ranger Station, and the Many Glacier Ranger Station.


Boaters wishing to launch on Bowman Lake should obtain a permit at Park Headquarters, but they must immediately proceed to Bowman Lake after the inspection.


Permits are available the rest of the year between 8:00 a.m. and 4:30 pm. Boaters should be prepared to wait longer for inspections in the off-season (fall/winter/early spring) due to limited inspection personnel. Please call ahead if you can estimate your arrival time, (406) 888-7800. Boaters on Waterton Lake must comply with permit and inspection requirements of Parks Canada.


Boats with internal ballast tanks or other enclosed compartments that exchange water with the environment and that cannot be readily opened and fully inspected are prohibited within Glacier National Park.


Boats failing inspection will be denied a permit. Boaters may re-apply for a permit after their boat is thoroughly cleaned, drained and dried.


Boats found with infestations of AIS species may be quarantined until they are fully decontaminated. This may take up to 30 days.


Waterton Lakes National Park Permit Regulations
A permit is required to launch any motorized or trailered boats in Waterton Lakes National Park. Hand propelled boats like canoes or rowboats and flotation devices such as float tubes do not require a permit.


To obtain the permit you will be asked a few short questions to ensure that the boat has not been in waters where invasive mussels are present.


Gate staff are required to stop all vehicles towing boats to ensure that they have a permit, or to provide a permit if they do not have one, or to arrange inspection. The permits are free and are available at the park gate, the visitor reception centre, the administration office, and campground kiosks. The permit must be carried on your person while boating in the park. The permits are valid for the entire season as long as the boat has not been launched in any waters where invasive mussels are thought to be present.


If the boat has been operated in waters of concern, then a free boat inspection is required prior to issuing a permit to ensure that the boat does not carry any invasive species.


If the inspection indicates the boat is contaminated, then it will not be permitted to launch and must be decontaminated and re-inspected before a permit will be issued. Boats with internal ballast tanks that have been operated in waters of concern will not be permitted to launch.

Additional Aquatic Invasive Species Information
fwp.mt.gov/fishAndWildlife/species/ais/
www.100thmeridian.org
nas.er.usgs.gov/default.aspx

Non-mortorized watercraft self-certification permit