Paul Ollig's Science in the Crown Blog - September, 2008

Click here to learn how to subscribe to Glacier's News Feed (RSS), which includes announcements about updates to this blog.
---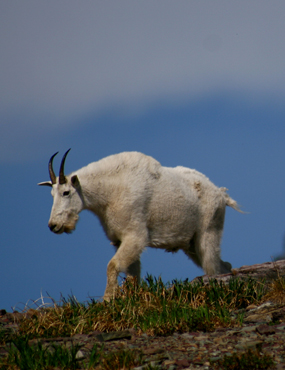 Paul Ollig
High Country Citizen Science: End of Season Update
September 30, 2008

Current Weather Conditions at Glacier National Park Headquarters
Temp: 74°
Sky: Sunny
Wind: Calm
You wouldn't know it from the weather outside, but autumn has officially arrived. In fact, the leaves here at Glacier National Park headquarters are already exploding in little pockets of gold, orange and red.
Autumn also brings to a close many of the park's summer operations. Here at the Crown of the Continent Research Learning Center, that means wrapping up our Citizen Science projects for the year.
Citizen Science projects utilize trained volunteers to collect scientific information that would otherwise be unavailable due to lack of personnel or funding. For the citizen scientists, the reward is a sense of stewardship and a greater understanding and awareness of the park's resource issues. For the park, it provides a wealth of data which can be used to increase our understanding of the our natural resources.
The High Country Citizen Science project engages volunteers to collect data on the number and distribution of three of the high country wildlife species that we are concerned about: mountain goats, Clark's Nutcrackers, and pikas.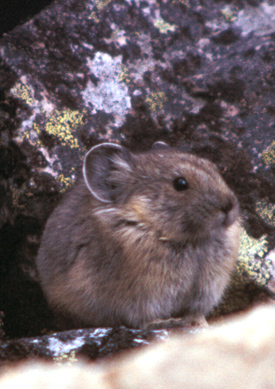 NPS Photo
Little is currently known about the status of each of these species in Glacier National Park. Are their habitats being adversely impacted by climate change?
Pikas, for instance, have already been extirpated in portions of the Great Basin due to climate change impacts, and their numbers have declined in other portions of their range. There is anecdotal evidence that this is occuring here, too. Clark's Nutcrackers have lost a substantial amount of one of their primary food sources, whitebark pine seeds, due to the fatal impacts of white pine blister rust and mountain pine beetles. Both of these infestations are becoming more prolific due to climate change.
Perhaps suprisingly, very little is known about how Glacier National Park's iconic mountain goats, a species well adapted to cold climates, will adapt to warmer average temperatures and changes to their habitat.
Citizen Science offers the park an opportunity to get much-needed baseline information about these important species. This summer, the High Country Citizen Science project hit the ground running, with 86 volunteers (including 12 Glacier National Park staff) recruited and fully trained for field surveys throughout the park. High Country Citizen Scientists learned about species identification, management concerns, and how to observe and document observations of each species. They also learned how to use field equipment such as spotting scopes, compasses and GPS units.
Once trained, the Citizen Scientists hit the trail, choosing from a list of mapped survey sites to complete systematic one-hour long mountain goat and/or pika surveys, often doing both survey types during the same hike. The response was fantastic. Not only did these volunteers get to experience some of the world's most inspiring scenery, the data they collected will help the park develop long-term protocols for monitoring back-country wildlife populations.
One of the highlights of the project was the first annual Mountain Goat Days population count on August 15 – 17. Surveys were completed at all mountain goat sites over the course of three days to develop a snapshot of the population in these representative areas. Mountain Goat Days volunteers were also stationed at strategic locations to help "ground-truth" aerial mountain surveys conducted by park biologists during that same weekend. The results of this intensive 3-day survey were impressive:
46 volunteers participated.
34 of 35 official mountain goat survey sites were surveyed.
151 mountain goats were observed (104 mountain goats at official sites and 47 mountain goats at all other sites).
While it is important to remember that these numbers do not reflect a park-wide population estimate (rather, it is a straight tally of results at each of these representative sites), the success of the event was an exciting reminder of the power of Citizen Science in helping resource managers gain a greater understanding of our parks' precious resources.
Stay tuned to this blog for further updates of this and our other Citizen Science projects. You can also email me for more information about how you can become one of Glacier National Park's Citizen Scientists!
---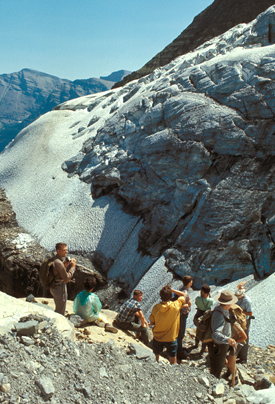 NPS Photo
Climate Change in the Crown: Repeat Glacier Photography
September 11, 2008

Current Weather Conditions at Glacier National Park Headquarters
Temp: 68°
Sky: Sunny
Wind: Calm
Glaciers fascinate people. They're like big, blue people magnets, drawing visitors from around the globe to marvel at their incredible power and primeval beauty. They are, arguably, the primary attraction here at Glacier National Park. But for how much longer?
For many, glaciers represent the apparent timelessness of the Rocky Mountains. They are ancient rivers of ice that have endured for countless millenia, tearing down mountains and sculpting some of the world's most dramatic landscapes.
In 1910, when Glacier National Park was established, these remnants of the "Little Ice Age" were already shadows of their former selves. But today, there is a sense of urgency as visitors rush to catch a glimpse of the glistening blue ice and gaping crevasses. There might be a tinge of sadness and regret, even a little guilt perhaps, on the faces of those who gaze up into the cool, dark corners of the mountains where the few remaining glaciers appear to cling to the mountainsides in a desperate attempt to stave off the inevitable.
The global climate is changing, and the park's namesakes are disappearing. The general public knows this. Park scientists know this. In fact, the general consensus of these scientists suggests that all of the glaciers in Glacier National Park will be gone by the year 2030.
This isn't a new story, either. For most of the park's first 100 years, visitors have been told that the glaciers were retreating, that eventually they would all disappear. But for most people, myself included, the reality of that statement was difficult to grasp. The relevance of this announcement escaped us because we could see the glaciers, as apparently unmoving as the mountains themselves, and still impressively massive. We couldn't witness their disappearance first-hand, so it didn't seem as real, as urgent.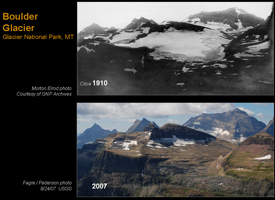 M. Elrod, Glacier National Park Archives, and Fagre/Pederson, USGS
At least we couldn't until now. Thanks to the Repeat Photography Project, a joint partnership between the U.S. Geological Survey (USGS) and the National Park Service, it is possible to witness the dramatic changes taking place in Glacier National Park due to glacial recession.
Researchers with the USGS examined photos taken of the park's glaciers from the early 1900's, then tried to determine the exact location that each photographer stood to capture the image. With photo in hand, they went into the field to capture a "repeat photograph" of each glacier.
The end result is a remarkable side-by-side comparison of the effects of global climate change on the park's glaciers. This project enables park managers, glaciologists and climatologists to study, compare and document a century of change in ice cover and thickness at Glacier National Park.
Of course, the interpreter in me wanted to see something even more dramatic than two photos next to each other. Taking a cue from the work the Ocean Alaska Science and Learning Center has done with repeat glacier photography at Kenai Fjords National Park, I decided to try my hand at creating a morphing image to better illustrate glacial recession.
(You will need the latest version of Macromedia Flash Player to view the animation.)
By taking the two individual images, I was able to layer them together into a single file and animate it to morph between the photographs.
Eventually, I hope to create a database of these animated images that includes all of the glaciers photographed in this project. Not only are these interesting to view, they also provide a valuable record of how Glacier National Park's resources change through time.
Global climate change is affecting every aspect of the management of this and many other national, state and community parks. It is imperative that we continue to study these impacts and work toward a greater understanding of these processes to help us anticipate the conservation demands of a glacier-less Glacier National Park.
The more we all understand climate change, it's causes and effects, the easier that will be.
---
Research Learning Centers: Bringing Park Science to You
September 10, 2008

Today's Weather at Glacier National Park Headquarters
Temp: 63°
Sky: Mostly Cloudy
Wind: Light
The Crown of the Continent. The name alone stirs the imagination, doesn't it? It hints at a place of sublime beauty and incalculable worth. For Glacier National Park, this title could not be more appropriate. For nearly 100 years, this park has existed to protect the fragile resources encompassed within this vast ecosystem. Scientists have come from around the globe to study the unique features, flora and fauna of this majestic landscape.
But how much of what they have learned is accessible to the millions who visit the park each year, those who come simply to admire its beauty and experience its wildness? Unfortunately, not as much as I would like. Which brings me to the purpose for this blog.
I've spent the last several weeks trying to figure out the best way to use this blog. What do people want to know about the research being conducted at Glacier National Park? How could the Crown of the Continent Research Learning Center (CCRLC) help provide access to this science? I quickly realized that, for the most part, you might not even know what we are, let alone what we do.
So, I have decided to start from the beginning. Throughout the next several weeks, months and even years, I will try to paint a picture not only of who we are at the CCRLC and what we are doing, but of the scope, status and progress of science and research within Glacier National Park as a whole. I want to bring the science of one of the crown jewels of the National Park Service to you.
Now, I might not be able to produce a nifty graph or announce an exciting new finding with every blog post, but I do intend to provide insights into both the processes and results of scientific research here at Glacier National Park. I also hope to make that science, and its implications, accessible to you.
It's a tall order, I know. There will certainly be challenges to overcome along the way and there might be times when my posting slows down to a trickle (scientific research, like blogging, is often both seasonal and sporadic). But I will do my best to minimize those down times by highlighting past research projects that might no longer share as much of the limelight.
There is a tremendous amount of fascinating (and globally relevant) research that has been and is currently being conducted at Glacier National Park. And in the days and weeks to come, I intend to bring this science to you.