Crown of the Continent Research Learning Center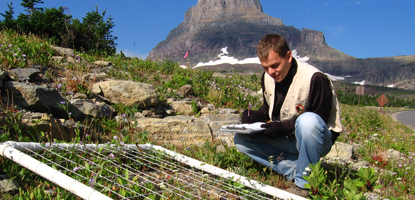 The Crown of the Continent Research Learning Center (CCRLC), located in Glacier National Park serves Waterton-Glacier International Peace Park, Grant-Kohrs Ranch National Historic Site and Little Bighorn Battlefield National Monument. CCRLC is part of a network of approximately 20 National Park Service research learning centers located throughout the United States.
Research Learning Centers have been developed to promote research and scientific understanding in our national parks. They aim to increase the effectiveness and communication of research and science results through:
Facilitating use of parks for scientific inquiry
Supporting science-informed decision making
Communicating relevance of and providing access to research knowledge
Promoting science literacy and resource stewardship

The CCRLC facilitates research by providing permits, housing, laboratory, and field support for researchers. In addition, CCRLC offers funding through the Jerry O'Neal National Park Service Student Fellowship, which supports graduate student research in the three NPS sites we serve in Montana. The George C. Rhule Library, managed by the CCRLC, provides additional resources for park staff and researchers.
Communicating Science is one of the CCRLC's primary roles. We use a variety of methods to connect front-line park staff, park managers, and the public with current research results. Media tools such as the CCRLC web site, newsletters, and pod casts describe current research projects and avenues to get involved. The Brown Bag Lecture Series, which features various researchers and staff, and events such as our annual Waterton-Glacier Science and History Day, also help communicate recent natural and cultural research.
Important components of our program are the citizen science projects which utilize trained volunteers to collect scientific information, enhancing our understanding of specific resources of concern, while engaging citizens in the stewardship of protected landscapes. CCRLC also offers internships for graduate and undergraduate students in research communication and field research.
Through these efforts, Research Learning Centers are places where science and education come together to preserve and protect areas of national significance. Please browse our other pages and e-mail us if you have questions.
Brown Bag Lecture Series

Join us at the park for a free presentation by park researchers. Read More

Science & History Day

Join park scientists and hear about their research during this free public event! Read More

Citizen Science at Glacier National Park

Learn how you can become a citizen scientist. Read More