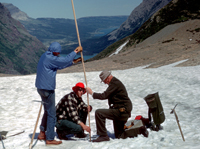 NPS
Glacier National Park has a proud legacy of research and scientific accomplishments dating back to the period prior to World War II. Although a formal research program did not exist in the Park until the mid 1960s many research projects and investigative surveys were carried out during the first half of the Twentieth Century by independent and academic investigators. The application of knowledge gained through science is essential for effective park management.
The Crown of the Continent Research Learning Center is dedicated to increasing the effectiveness and communication of research and science results in Glacier National Park, Grant-Kohrs Ranch National Historic Site, Little Bighorn Battlefield National Monument in Montana, and Waterton Lakes National Park in Alberta, Canada.
Strong emphasis is placed on scientific collaboration with other agencies at all levels of government, regional Indian tribes and universities. Collaborative endeavors are encouraged through the formation of research partnerships with qualified independent investigators.
Click here for information about conducting research in Glacier National Park.