Internship and Fellowship Opportunities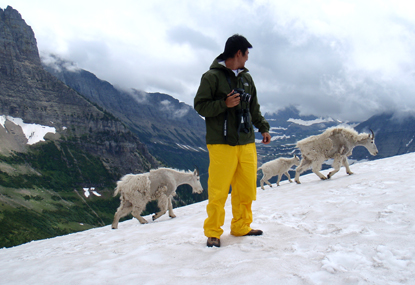 NPS
Internships

The Crown of the Continent Research Learning Center periodically enlists the help of 3 to 4 student interns each summer from around the world to assist with various research and education projects. These internships typically run approximately 12 weeks through the summer field season (typically May/June - August/September). Most interns work closely with our Citizen Science Program, but we try to provide interns with a range of experience in other resource management, education, and operational activities when opportunities are available. Some of these activities may include (but would not be limited to) curriculum development, interpretive writing, desktop publishing, data management, and research and monitoring assistance.
For more information on internships, e-mail us. We will respond with any new information and put you on a mailing list to receive additional updates. When we have funding for paid internships, we will send out a notification to everyone on our mailing list as soon as the job announcements are open for submitting applications. The announcements are usually posted in December - February. That is also a good time to watch www.usajobs.gov for all government summer employment opportunities, searching zip code 59936 for any positions in Glacier National Park, 59722 for Grant-Kohrs Historic Ranch National Historic Site, or 59022 for Little Bighorn Battlefield National Monument.
When funding for paid internships is limited, we also hire volunteer interns. Summer volunteer interns are provided with free housing and usually receive a small stipend of $140/week. To apply for a summer volunteer internship, you will need to submit a copy of your resume, a letter of recommendation from a professor at your school (or former employer if you are not a current student), and a cover letter between October 1 and March 15. The cover letter should include your dates of availability (beginning and ending), your objectives for participating in the internship (e.g. experiences and skills you would like to gain and how it would benefit your education or career goals), and any specific requirements for your school. Please let us know if you do not require housing or a stipend. Be sure to highlight any environmental education experience, biology course work, and your level of hiking/backpacking experience. Some positions may have additional requirements, and we may request more information after reviewing your materials. Interns for the upcoming summer will be selected by early April.
In summer 2012, we expect to hire four paid interns (GS-4 level or similar). We do not expect to hire any volunteer interns for summer 2012. Please email us to get on our mailing list for more information on the paid positions.
Occasionally, we can accommodate a winter intern to assist with data management and development of educational products. Housing would be provided, but there would be no stipend. Applications for a winter internship should follow the format described above, and should be submitted at least 3 months before your proposed start date.
---
Jerry O'Neal National Park Service Student Fellowship

The Crown of the Continent Research Learning Center, in collaboration with the Rocky Mountain CESU, created the Jerry O'Neal NPS student fellowship to support research in Glacier National Park, Grant-Kohrs Ranch National Historic Site, and Little Bighorn Battlefield National Monument. Applicants must be a student from a Rocky Mountain CESU member college or university.
Jerry O'Neal Student Fellowship Brochure
Jerry O'Neal was a former deputy superintendent of Glacier National Park who was actively engaged in a range of environmental management projects and was a key park official during the wildfires of 2003. Jerry was a scientist, poet, and writer. He had a deep love of nature, and was an outspoken proponent for using sound science to support resource management decisions.
The fellowship aims to provide educational assistance for students seeking to understand natural and cultural resource issues and how these intersect with human values at Glacier National Park, Grant-Kohrs Ranch National Historic Site, or Little Bighorn Battlefield National Monument. Fellowships will be awarded in the range of $1,000-4,000 per project. Awards may also include housing if available.

Applications are normally due mid-February. For 2013 they must be submitted electronically by February 13. For details, see the 2013 Jerry O'Neal Fellowship Announcement.