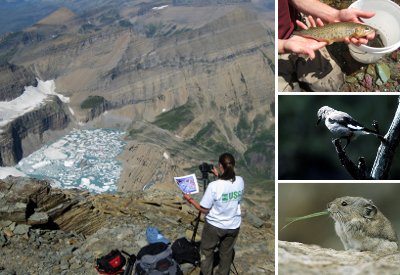 Left: USGS Photo, Right: NPS Photos
The Crown of the Continent Research Learning Center provides a variety of opportunities to learn about research, history, and resource issues happening within Glacier and Waterton Lakes National Parks. Throughout the spring, summer, and fall, the CCRLC offers brown bag presentations that provide information on current research, resource topics, and history to park staff and the public.
Each summer, the CCRLC also helps to coordinate Science & History Day, a special all-day program highlighting the parks' science and history. This event brings together scientists and historians conducting research in Glacier and Waterton Lakes National Parks, giving them an opportunity to share their insights and research results with the general public. The location of this event alternates between the two parks on an annual basis.
Brown Bag Presentations in Glacier
The CCRLC typically hosts brown bag presentations from April through October. To find our current listings, visit our Brown Bag Presentations page on our website.
Science & History Day
The 2014 program will be held at Falls Theatre in Waterton Lakes National Park on Tuesday, July 29. For more information and a schedule of speakers, visit our Science & History Day page on our website.
Current information about all of our events, programs, and publications can be found on our website at www.crownscience.org.