Invasive Plant Citizen Science Project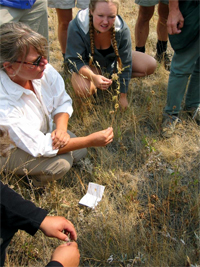 NPS
Part of Glacier's beauty includes the diversity of plant and animal life within its one million acres. Wildflower watchers enjoy the delicate painted petals of the Calypso orchid or the flashy colors of the Indian paintbrush. And almost all of us enjoy spotting mountain goats munching on alpine glacier lilies.
Glacier National Park hosts over 1,000 different types of plants, but our unique native flora has serious competition. There are currently 126 exotic plant species within the park and although many of them are not invasive, the list does include 20 noxious weeds, or highly invasive plants that are a direct threat to the proliferation of native plant communities.
The Invasive Plant Citizen Science Program assists park managers map where invasive plants exist in the backcountry. The data gathered by park staff and Citizen Scientists throughout Glacier's million acres provides critical assistance in mapping these invasive plants and managing them.
In 2008, 81 surveys were completed by Citizen Scientists of which 66 surveys involved 45 trail segments that were used in the park's invasive plant mapping database. The Exotics database is used by the Invasive Plant Biologist in determining which areas to target for treatment each year.
If you would like to learn more about the Invasive Plant Citizen Science Program, please download a copy of the education presentation as well as an example of a survey form, found below in pdf format, or view a podcast about the program.
Invasive Plants Citizen Science Online Training (6.3Mb)
Invasive Plant Survey Form (604Kb) Please download prior to training