Common Loon Citizen Science Project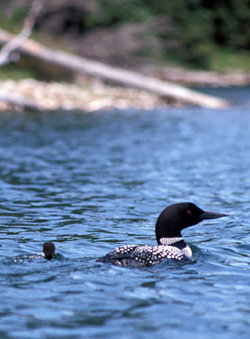 NPS
From 1986 to today, park employees and volunteers have ventured into Glacier National Park to document the presence of Common Loons during the the annual Loon Day counts. Estimates from the data collected over the last 20+ years suggests that Glacier National Park harbors approximately 20% of Montana's breeding Common Loons. Since 2005, the Crown of the Continent Research Learning Center has managed a Citizen Science Loon Program, educating park staff and volunteers to monitor potential loon lakes throughout the entire nesting season.
Why are we concerned about Common Loons? First of all, Common Loons are a Montana Species of Special Concern, and Glacier National Park harbors about 20% of Montana's breeding pairs. Since 1988, data has been collected once every year during Loon Days. Analysis of these data indicate lower reproductive rates for pairs in the park compared to the rest of Montana. Finally, there is evidence that loons are adversely impacted by human disturbance at nest and nursery sites.

The Common Loon Citizen Science Program educates park staff and volunteers on successful identification and observation techniques when surveying for loons in hopes of increasing our understanding of this species. By improving accuracy of sightings and surveys and increasing coverage of lakes with loons throughout the nesting season, we hope to gather season-long information to gain a better estimate of the health of Glacier National Park's loon population. We also hope to use the data to begin to identify factors affecting nesting success.

What are the major successes of this program?

Since 2006, each of the 45 priority lakes were surveyed at least 3 times- prior to, during, and after Loon Day;

New information was documented regarding nest site locations and hatch and migration dates;

Over 1,000 surveys have been completed on 88 of Glacier's lakes;

120 Volunteer Loon Observers were recruited and trained in 2008 (including 26 Waterton-Glacier International Peace Park volunteers);

156 Volunteer Loon Observers were recruited and trained in 2007 (including 63 Waterton-Glacier International Peace Park employees);

77 Volunteer Loon Observers were recruited and trained in 2006 (including 33 GNP employees);

649 additional Park employees and people from outside organizations attended outreach presentations on basic loon biology and sensitivity throughout the program.

To learn more about the Common Loon Citizen Science Program, you can download the education presentation, and a loon observation form, in pdf format below, or view a podcast about the program.
Citizen Science for Common Loon Monitoring Education Presentation (PDF, 3.7MB)

Common Loon Observation Form (PDF, 19KB)