High Country Citizen Science Project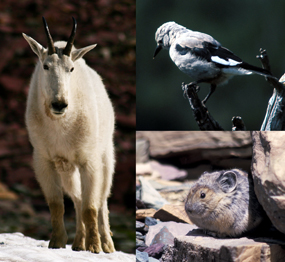 Mountain Goat: Paul Ollig; Pika and Nutcracker: NPS
Concern about wildlife in Glacier's alpine and subalpine is growing. High country habitats are highly vulnerable to impacts from climate change and invasions of insects and plant diseases. Mountain goat and pika population declines have been documented in areas outside of Glacier and whitebark pine, a primary food source for Clark's Nutcrackers that is declining rangewide, is clinging to existence in Glacier. Yet, little is known about the status of each of these wildlife species in Glacier.
The High Country Citizen Science Program hopes to provide information on the abundance and distribution of mountain goats, pikas and Clark's Nutcrackers in Glacier's backcountry, enabling the park to more effectively manage these species and their habitats.
In 2008, 86 High Country Citizen Scientists participated in education programs and helped collect data throughout the park. These citizen scientists were primarily local residents and ranged in age from 20 to 74, and completed 276 mountain goats and pika surveys.
Additionally, 46 citizen scientists participated in first annual Mountain Goat Days population count (August 15 - 17), helping to ground-truth aerial surveys conducted by park biologists during the same period. Citizen scientists also documented 44 Clark's Nutcrackers observations.
If you would like to learn more about the High Country Citizen Science Program, you can download a copy of the education presentation, as well as examples of the observation forms, in PDF format below.
High Country Citizen Science Presentation -- (PDF, 1.4MB)
Goat and Sheep Survey Form -- (PDF, 279KB)
Pika Survey Form -- (PDF, 359KB)
General Wildlife Observation Form -- (PDF, 98KB)