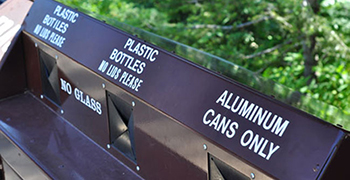 NPS photo
In Montana, the availability of services for recyclable materials like glass and plastic is limited; so here at Glacier, it takes a little extra effort to recycle all that we'd like. With that in mind, we're proud of the systems we have in place for the collection of recyclables.
We currently recycle everything that the market here accepts. We recycle office paper, #1 and #2 plastic, aluminum, and cardboard. We also take extra care to make sure we recycle used batteries and used CFL light bulbs as well as motor oil, computers, and tires.
In addition, we're making recycling easier for our visitors with places to recycle aluminum and #1 & #2 plastic near the entrance of every campground and other high-use park facilities.

Save Plastic! Use Glacier's New Water Filling Stations
Another way to reduce waste and recycle is to refill your water bottle at one of the park's new water filling stations. Filling stations are found at the Logan Pass and St. Mary Visitor Centers as well as in the Many Glacier Hotel, Swiftcurrent Motor Inn, Rising Sun Motel, and Lake McDonald Lodge. So, get out your water bottle, enjoy Glacier's refreshing water, and help us reduce, reuse, and recycle!