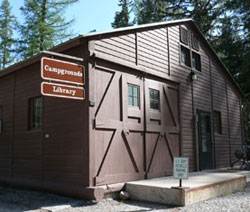 NPS Photo
Glacier's George C. Ruhle Library, located at Park Headquarters, serves the park staff, volunteers and members of the general public. The collection consists of books, magazines, articles and pamphlets relating to the history, culture, geology, animals and plants of Glacier National Park.
Hours of Operation:
Tuesdays and Thursdays, appointments strongly recommended. Please make use of the catalog and other online resources before coming to the library.
Contact Information:
Librarian:
Sheree West
Email: e-mail us
Fax: (406) 888-5824
Phone: (406) 888-7932
Mailing Address:
Research Library
PO Box 128
West Glacier, MT 59936
Collection:
Access. The general collection is open to everyone, free of charge.
Patrons may only use pencils in the Reading Room. Pens are NOT ALLOWED.
There is NO public email access in the library.
Food and drinks are prohibited.
Copies of materials. Copyright rules must be observed. Copying from print and microform is available for $.15 a page. Digital photos (without flash) are allowed. Please be aware that fragile items may not be copied.
Research. The library staff is able to perform limited research for patrons by mail or in person. Please allow up to one month for all research requests. It is recommended that extensive research be done in person.
Online Catalog. Our online catalog is available through National Park Services libraries at:
http://www.library.nps.gov
Support the Library:
Join the Glacier Association. This organization is a non-profit entity cooperating with the National Park Service to advance educational programs, including the library, to promote understanding and appreciation of the park. For more information contact the Glacier Association at (406) 888-5756 or visit their website at http://www.glacierassociation.org.
Donate. The George C. Ruhle Library is always seeking donations to enhance the current collection. Contact the librarian for information about donating documents or other materials.

Volunteer. Volunteers are always welcome! For more information, see our volunteer page, or contact the librarian. The librarian would also be happy to discuss internship or practicum with students enrolled in Library Studies programs.