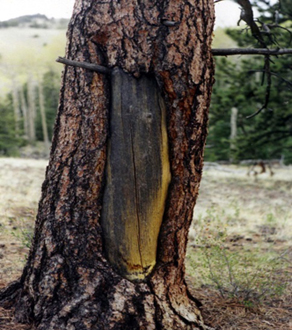 Culturally Scarred Tree
Some Native peoples considered the inner bark (cambium layer) of the Ponderosa Pine tree to be a delicacy. To acquire it, they would strip bark from large trees and then separate it into edible and inedible layers, without killing the tree. Many of these trees can be found throughout Montana and the west.
Location Is Everything
Archeologists value the setting and location (provenience) of an object, artifact, or feature for the information it can provide. When an object is left in place, its setting provides valuable clues to the people who left it. When it is removed from its context, it becomes just another object. Sadly, collectors rip artifacts from their context for monetary gain or from sheer ignorance. Without this information, an artifact is just an intriguing object with little scientific value. It is against the law to remove or damage archeological resources on federal lands.