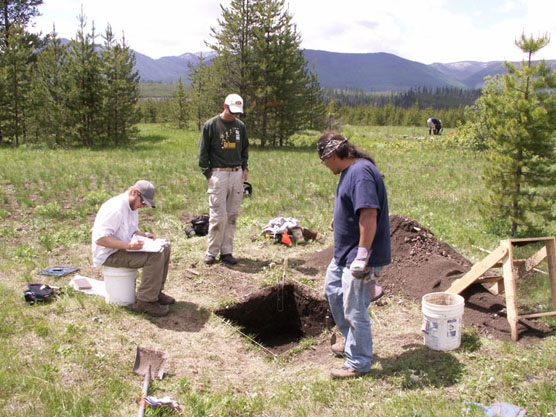 NPS Photo
Glacier National Park is world renowned for its natural beauty and endless recreational opportunities. Overwhelmed by its spectacular wild vistas, many of us fail to consider those who came before us, past peoples who perhaps admired the same views or whose footsteps created the path we now follow. If we take a minute to ponder that we are not the first people to know and love this land, we begin to wonder what other people lived here in this sometimes harsh but glorious landscape. What brought them to this vast mountainous area? How did they travel? What did they eat?
Archeologists try to answer these and other questions by studying the things that early people left behind. Often, when we think of the process of archeological inquiry, we imagine scientists collecting arrowheads or performing elaborate excavations. In reality, archeology involves the study of a wide range of objects (artifacts), structures (features), and places that people live (cultural landscapes). Studying these pieces of physical history helps us to connect to people and landscapes from the past. From the smallest flake of chert to a abandoned homesteader's cabin, from an ancient trail to a sunken steam boat, archeologists painstakingly work to unravel Glacier National Park's history and prehistory. They incorporate techniques such as careful excavation and systematic walking surveys, and utilize technological tools such as GPS units, metal detectors, and ground penetrating radar. They also seek the knowledge of tribal members who have memories and stories of this place - part of their traditional lands - and still seek out its special places, or the descendants of more recent inhabitants like the miners, homesteaders, and early park employees. Through the study of archeology and ethnography, people of long ago can still talk to us today.
Glacier's archeologists are involved in many projects throughout the year. By studying prehistoric and historic places and objects, we hope to add to our knowledge of this place we now call Glacier National Park.
Please help us in this endeavor. It is up to all of us to preserve history of past peoples. This evidence may be all around us. Each fragment of stone, each bottle, or nail is a unique and irreplaceable part of Glacier's story, and we are all their stewards. Please leave them undisturbed.