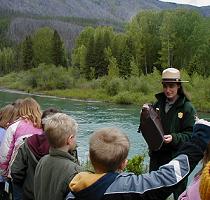 Objectives: (These are some of the objectives that can be achieved on a wild animals and wild places program. Many others are possible depending on teacher's focus and the ranger.)
Students will be able to:

Tell what national parks protect and one reason Glacier National Pak was established.

Distinguish between natural and un-natural objects.

Explain the difference between a wild animal and a domestic animal and name three wild animals that live in Glacier National Park.

Tell one characteristic of a predator and one characteristic of a prey species.

Explain how color can help an animal to hide in its natural living space.

Draw a beaver and label the body parts that help the beaver to live in its habitat.

Describe where a beaver might live and what it would look like.

Use deductive reasoning and questioning to determine the identity of a mystery animal.

Make a simple food chain of organisms in Glacier National Park.

Hike independently making observations using their senses.

Observe and describe plant growth and change.

Sort and count various natural objects. Then try to identify those same objects on the trail.
Montana Content and Performance Standards:
10.54.5010 Science Standard 1= Design, conduct, evaluate, and communicate scientific investigations.


10.54.5020 Science Standard 2= Demonstrate knowledge of properties, forms, changes, and interactions of physical and chemical systems.


10.54.5030 Science Standard 3=Demonstrate knowledge of characteristics, structures and function of living things, the process and diversity of life, and how living organisms interact with each other and their environment.