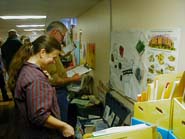 Glacier National Park participates each year in the Flathead Community of Resource Educators (CORE) educational trunk workshop.
The workshop is usually held the 3rd week in October over the teacher training (PIR) days in partnership with the Northwest Montana Educational Co-op. In 2014, the Flathead CORE is holding the trunk workshop October 16 with the Kalispell location to be decided. One of the possible locations is at the Flathead National Forest Supervisor's Office, 650 Wolfpack Way, in Kalispell.
Check the Flathead CORE website or the Curriculum Cooperative's website in September/October each year to find out which trunks will be featured, and the exact location & schedule for the workshop. The worskhop will also be posted on the local teacher training website, PIRnet.
---