Service Learning and Stewardship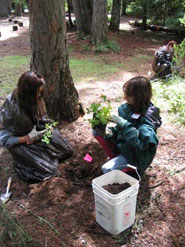 NPS Photo
STARS - Students Taking Action in Restoration and Stewardship
The STARS program is a progressive, curriculum-based program for 3rd, 8th, 9th and 10th grade students to learn concepts of habitat restoration by participating in a service learning, native plant restoration project at Glacier National Park. The goal of the program is to educate students about human impacts to native plant communities and to promote increased stewardship of Glacier National Park. Schools participating in the STARS program are eligible to apply for travel grants to assist with covering bus transportation costs to the park.
As part of the STARS program, teachers conduct pre-visit lessons with their students to prepare them for the project. Then the group comes to the park, and depending on the grade level, may assist native plant program staff with sowing seeds, preparing cuttings for planting, collecting seeds from native plants, digging holes to plant natives, or monitoring restoration sites previously planted. Groups participating in the STARS program must know that they will be walking/hiking, getting their hands-dirty, carrying items up and down the trail, and that all of this could happen in the rain, sun, wind, or snow!
Groups will leave the park feeling tired and sweaty but also filled with a huge sense of accomplishment for the work they've completed in re-vegetating a human-impacted area of the park.
Field trips are available for these grade levels:
---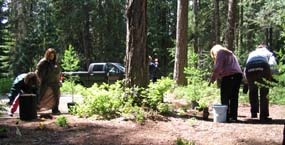 NPS Photo
Glacier's Native Plant Restoration Program began in the late 1970's with revegetation projects at Logan Pass and backcountry campgrounds as well as exotic plant control park-wide.
The program dramatically expanded in 1986 when the park entered into partnership with the Federal Lands Highway Administration to repair the aging Going-to-the-Sun Road.
Road rehabilitation, as well as construction and heavy visitor use, results in disturbance to the vegetation and soil. The consequences include bare ground, soil erosion, invasion by exotic plants, displacement of animals, and reduced aesthetic value and biological integrity.
Over the past years, Glacier has developed a comprehensive restoration program to restore structure, function, and plant diversity to these impacted areas. Indigenous plant material is used to maintain genetic integrity. Native soils and plants are salvaged and stored for re-planting whenever possible. Seeds and cuttings are collected annually and propagated in the park's native plant nursery for replanting. Completed projects are monitored to evaluate the effectiveness of revegetation efforts. In addition to road reconstruction, other projects includr repair of a wide range of vegetation and soil impacts in campgrounds, scenic vistas, and developed areas in Glacier National Park.
---