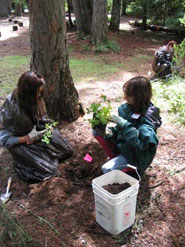 NPS Photo
STARS - Students Taking Action in Restoration and Stewardship
The STARS program is a progressive, curriculum-based program for 3rd, 8th, 9th and 10th grade students to learn concepts of habitat restoration by participating in a service learning, native plant restoration project at Glacier National Park. The goal of the program is to educate students about human impacts to native plant communities and to promote increased stewardship of Glacier National Park. Schools participating in the STARS program are eligible to apply for to assist with covering bus transportation costs to the park.
As part of the STARS program, teachers conduct pre-visit lessons with their students to prepare them for the project. Then the group comes to the park, and depending on the grade level, may assist native plant program staff with sowing seeds, preparing cuttings for planting, collecting seeds from native plants, digging holes to plant natives, or monitoring restoration sites previously planted. Groups participating in the STARS program must know that they will be walking/hiking, getting their hands-dirty, carrying items up and down the trail, and that all of this could happen in the rain, sun, wind, or snow!
Groups will leave the park feeling tired and sweaty but also filled with a huge sense of accomplishment for the work they've completed in re-vegetating a human-impacted area of the park.
Field trips are available for these grade levels:
---