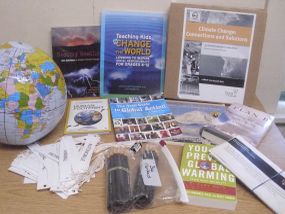 NPS PHOTO
"You have probably seen or heard
the term climate change in many places,
from magazines to movies,
at school, and at home.
Everyone is talking about it.
But what exactly is climate change,
and how does it relate to our lives?"
--from Facing the Future curriculum
Contents
This trunk contains lessons for a two week unit to help students understand our changing climate. The curriculum, from Facing the Future, is supplemented with videos, CDs, and local materials. We have laminated the student pages and made class sets of the reading materials. Everything is ready for you to start sharing the lessons!
Lesson Plans
This curriculum is aligned with national standards for science and social studies but could easily incorporate other subject areas. The two week unit includes nine lessons, offering an introduction to climate change and the forces behind the change as well as exploration of other social, economic, and environmental factors. Browse all of the lessons in the Climate Change: Connections and Solutions curriculum.
About this Trunk
Glacier National Park's Climate Change traveling trunk is free of charge and can be borrowed for 2-4 weeks at a time but must be picked up and dropped off in person (Sorry, it is not possible to mail the trunk.) To arrange to borrow this trunk, please submit a reservation form with the dates you would like to use it. If you have further questions, contact Glacier's Education Specialist.
To find out more about Facing the Future and to get more resources and information to use in your classroom, visit www.facingthefuture.org.