Traveling Trunk
Bear Trunk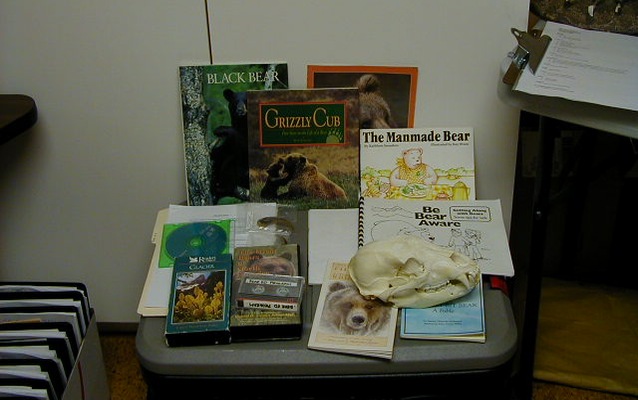 NPS Photo
Contents
This trunk contains all the resources needed to facilitate learning about bears in your classroom! Discussions focus on bear biology, habitats, and food sources with an emphasis on identifying bears and playing safely in in bear country.  
Lesson Plans
The bear trunk includes three curriculum guides from which to choose activities for your students: The Bear Connection:A Curriculum Guide for grades 4-8; Bear Trunk Lesson Plans for grades K-6; and The Everywhere Bear: Stories and Activities. Students in the upper grades benefit from additional materials available on the web.
Books
Bears and Their Dens

. Tagliaferro, L. 2004. (ISBN: 0736851216)

Bears

: Polar Bears, Black Bears and Grizzly Bears. Hodge, D. 1996. (ISBN:

1550743554)

Every Autumn Comes The Bear. Arnosky, J. 1996. (ISBN: 0698114051)

Grizzly Cub. McIntyre, R. 1990. (ISBN: 0882403737)

I Don't See Any Bears, Do You?

. Howell, T. 2005. (ISBN: 087358886X)

The Last Bit Bear

. Chisholm deYounge, S. and Ditzler Meloy, E. 2004. (ISBN:

157098431X)

The Manmade Bear

. 1980

Somebody and the Three Blairs

. Tolhurst, M. 1995. (ISBN: 0590539604)
Audio/Visual:
Glacier. Reader's Digest. VHS video
The Great Bears of North America. VHS video
Bears. IMAX DVD
Bear PowerPoint CD-ROM with script (two versions, one for older students and one for younger students)
Other Resources

Grizzly bear track cast

Skulls

-b

lack bear and g

rizzly bear

Claws

-b

lack bear (reproduction) and g

rizzly bear (reproduction)

Pelts-black bear (young)

Puppets-grizzly bear hand puppet

Be Bear Aware (coloring book for distribution)

Jewels of Glacier poster and key
Bears of the Rockies poster
Three bear family sort, pattern, play activity set
Borrowing Instructions
All of Glacier's traveling trunks are free of charge and can be borrowed for 2-4 weeks at a time but must be picked-up and dropped-off in person (Sorry, it is not possible to mail the trunks.) To arrange to borrow a trunk please submit this reservation form for the trunk you are interested in and the dates you would like to borrow it. If you have other questions about the traveling trunks, contact Glacier's Education Specialist.
Details
Subject:

Biodiversity, Biology: Animals, Conservation, Education, Environment, Wilderness, Wildlife Biology, Wildlife Management

Keywords:

black bears, bears, grizzly bear

type:

Traveling Trunk
Experience More
on NPS.gov
Lesson Plans
Distance Learning
Field Trips
Topics