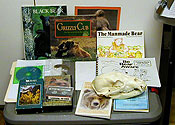 NPS Photo
All of Glacier's traveling trunks are free of charge and can be borrowed for 2-4 weeks at a time but must be picked-up and dropped-off in person (Sorry, it is not possible to mail the trunks.) To arrange to borrow a trunk please submit a reservation form with the dates you would like to have the trunk. If you have further questions, contact Glacier's Education Specialist.
---
Teacher Guides

The Bear Connection:
A Curriculum Guide for grades 4-8
Bear Trunk Lesson Plans for grades K-6
The Everywhere Bear: Stories and Activities
Books (Fiction)
The Manmade Bear
The Last Bit Bear
Every Autumn Comes the Bear
Goldilocks and the Three Bears
Somebody and the Three Blairs
I Don't See Any Bears Do Your?
Books (Nonfiction)
Bears
Bear Essentials
Field Guide to the Grizzly Bear
Grizzly Cub
Bears and Their Dens
Black Bear
Bear (Zoobooks)
Audio/Visual
Reader's Digest "Glacier" VHS
The Great Bears of North America VHS
Bears IMAX DVD
Bear PowerPoint with script
Bear Objects
Black bear pelt
Grizzly bear track cast
Grizzly and black bear skulls (replicas)
Grizzly and black bear claws (replicas)
Misc.
Jewels of Glacier poster and key
Bears of the Rockies poster
Three bear family sort, pattern, play activity set