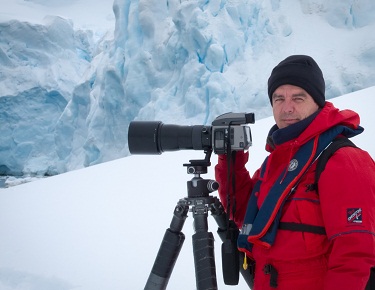 Oliver Klink is a professional nature and wildlife photographer based in Los Gatos, California. "I like to photograph the time and the essence more than objects and specific facts", Oliver says.
Oliver travels to the same place many times so he can feel the changes, the influence of the environment, the weather patterns. He finds himself surrounded by more than just attractive vistas. Images tell stories, hold history and have personalities. The locations become magical. It dares him to feel what is left unsaid, forcing him to imagine the sounds, the smells, and the total life of what was captured in the frame.
"In my work I don't seek to show the problems of the universe, I seek to find an ideal to go beyond. On the other hand, the established system urges us to do everything in less time. Time has been accelerated and therefore life has been reduced. In this sense, my work is an ode to contemplation, a stop to observe our environment and reflect on what we see."
At Glacier National Park, Oliver plans to expand his body of work, titled Ice. Ice is synonymous with geographical isolation and extreme environment. It does inspire speculation, adventure and exploration. Ice is also a big topic of conversation when tagged with "global warming" or endangered wildlife species. "As human beings we tend to forget when changes happen slowly. We get use to the situation. Taking a back seat and reflecting on what we have might well be a starting point for a brighter future."
His Ice project was exhibited in San Francisco Bay Area under the title 55inches - abstraction meets reality - Image of sea level rise.