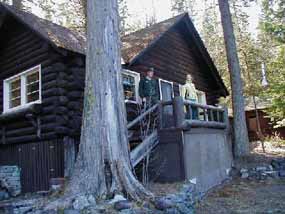 Artist-in-Residence Program
Focus
Glacier National Park's Artist-in-Residence program seeks artists whose work is relevant to the park interpretative themes. Artists in all disciplines who have a genuine interest in contributing to the national discussion on these themes should consider applying to the program.
Housing
The lodging for the artist-in-residence program is a historic cabin on the shores of Lake McDonald. It has a full kitchen, bath, one bedroom, and a studio space overlooking the lake. The kitchen is equipped with the basics including pots and pans, utensils, microwave, coffeemaker and tableware. Bed linens, towels and pillows will be provided. Artists are expected to provide their own material for their studio, their own food and their own transportation. Artists are also responsible for the upkeep and cleaning of the cabin. Internet and cell phone service is not available at the cabin.
Public and educational programs
The willingness to share your experience with others is a key component of the Artist-in-Residence program. During their residency the artists shall present three public programs. These programs can be lectures, workshops, demonstrations, performances, film screenings or guided walks, but should represent the artist's work and experience.
Upon returning home the artist is encouraged to present one public program to share the experience with their local community. This program should focus on their experience as the artist-in-residence and its influence on their personal enrichment.