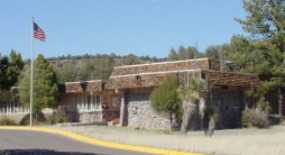 NPS Photo
Gila Visitor Center
Open Every Day from 8 am to 4:30 pm Mountain Time

Phone: 575-536-9461
Fax: 575-536-9344

Exhibits
A small museum includes Mogollon artifacts from the Gila Cliff Dwellings and surrounding area and an exhibit on the Chiricahua Apache who consider the wilderness to be their homeland. A 15-minute video illustrates what life may have been like for the Mogollon who built and occupied the Cliff Dwellings.

Available Facilities
The Visitor Center contains a bookstore operated by the Western National Parks Association and wheelchair accessible restrooms.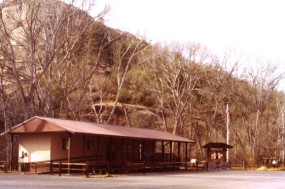 NPS Photo
Trailhead Contact Station

Open Every Day from 9 am to 4 pm Mountain Time

Location
The trailhead Contact Station is located two miles from the Visitor Center, at the northern end of State Highway 15.

Cliff Dwellings Trail
The one-mile loop trail to and through the cliff dwellings climbs 180 feet above the canyon floor to an elevation close to 6000 feet. Allow a minimum of one hour for the round-trip hike. The trail is not wheelchair accessible. Views of the some of cliff dwellings are possible after a 1/4-mile hike in the canyon bottom. The trail that continues to the dwellings is steep and rocky in places and can be muddy or icy at times. Wear sturdy shoes, pace yourself (use the benches), and carry water.
Exhibits
The trailhead Contact Station contains a small exhibit area on the natural history surrounding the Gila Cliff Dwellings' local geology, flora, and fauna.

Available Facilities
The trailhead Contact Station is wheelchair accessible. Four vault toilets are placed around the parking lot. The trailhead to the Cliff Dwellings starts next to the Contact Station. The entrance fee for the Cliff Dwellings is collected at a self-pay fee station near the Contact Station.
Pets
Because pets are not permitted on the trail to the Dwellings, kennels are available at no charge. Certified service dogs are allowed on the trail.
Picnic Tables
In order to help preserve the Cliff Dwellings, food is not permitted on the Cliff Dwellings Trail or wihin the dwellings. Picnic tables are available near the Contact Station.