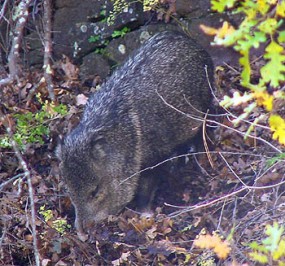 NPS Photo by Barry Nielsen
The most common large mammals in the area are black bear, mountain lion, elk, and mule deer. Smaller mammals abound and include rabbits, jackrabbits, squirrels, chipmunks, beaver, and so forth. A program involving large mammals, that is of particular note is the reintroduction of the endangered Mexican gray wolf (canis lupus baileyi) into the nearby Blue Range Wolf Recovery Area, which consists of areas in Arizona and New Mexico. This reintroduction within the subspecies' historic range is the first step toward recovery of the Mexican wolf in the wild. The Blue Range Wolf Recovery Area consists of the entire Apache and Gila National Forests in east-central and west-central New Mexico. Wolves are reintroduced into a primary recovery area in Arizona, but are allowed to disperse throughout the entire recovery area. If the [US Fish and Wildlife] Service finds it to be both necessary for recovery and feasible, it will reintroduce wolves into the White Sands Wolf Recovery Area, which also lies within the subspecies' historic range. This area consists of all land within the boundaryof the White Sands Missile Range in south-central New Mexico together with land immediately to the west of the missile range. By this rule, the [US Fish and Wildlife] Service classifies wolves to be re-established in these areas as a nonessential experimental population under section 10(j) of the Endangered Species Act of 1973, as amended.
The following mammals listed in the brochure "Fish, Amphibians, Reptiles and Mammals...A Species Checklist for the Gila National Forest", which can be obtained by calling the Gila Cliff Dwellings Visitor Center at (575) 536-9461 or click on the link below.
Unless otherwise noted, abundance of each species ranges from uncommon to fairly common to common. Residency, the time of the year in which the species normally appears, is listed only for bats.
Shrews:
Merriam's Shrew - rare
Dusky Shrew, Desert Shrew
Plain Nose Bats:
Southwestern Myotis - summer resident
Yuma Myotis - summer resident
Long-eared Myotis - summer resident
Fringed Myotis - permanent resident
Long-legged Myotis - summer resident
California Myotis - summer resident
Little Brown Myotis - summer resident
Western Small-footed Myotis - permanent resident
Silver-haired Bat - summer resident
Western Pipistrelle - summer resident
Big Brown Bat - permanent resident
Hoary Bat - transient
Western Red Bat - rare - summer resident
(Allen's) Mexican Big-eared Bat - summer resident
Spotted Bat - rare - summer resident
Big-eared Bats: Townsend's Bat - permanent resident
Pallid Bat - summer resident
Freetailed Bats:
Mexican Freetailed Bat - transient
Hares and Rabbits:
Black-tailed Jack Rabbit, Desert Cottontail, Eastern Cottontail Squirrels:
Abert's Squirrel, Arizona Gray Squirrel, Red Squirrel, Gunnison's Prairie Dog - rare, Spotted Ground Squirrel, Rock Squirrel, Thirteen-lined Ground Squirrel - rare, Golden-mantled Ground Squirrel, Cliff Chipmunk, Gray-collared Chipmunk
Pocket Gophers:
Botta's Pocket Gopher
Kangaroo Rats and Pocket Mice:
Desert Pocket Mouse, Silky Pocket Mouse, Ord's Kangaroo Rat, Merriam's Kangaroo Rat
Native Rats, Mice, and Voles:
Northern Grasshopper Mouse, Southern Grasshopper Mouse, Western Harvest Mouse, Northern Rock Mouse, Cactus Mouse, Grateful Mouse, Deer Mouse, White-footed Mouse, Brush Mouse, Pinyon Mouse, Hispid Cotton Rat ,Yellow-bellied Cotton Rat, White-throated Wood Rat, Stephen's Woodrat, Mexican Woodrat, Montane Vole, Mexican Vole, Long-tailed Vole, Southern Red-backed Vole, Meadow Vole - extirpated, Muskrat House Mouse
Beaver:
Beaver Porcupines:
Porcupine Dogs and Allies:
Coyote, Gray Fox, Kit Fox
Bears:
Black Bear
Raccoons and Allies:
Raccoon, Ringtail Coati, Nasua narica
Weasels, Skunks, and Allies:
Long-tailed weasel, Badger, Striped Skunk, Hooded Skunk, Western Spotted Skunk, Common Hog-nosed Skunk
Cats:
Bobcat, Mountain Lion
Javelina:
Collared Peccary (Javelina)
Deer and Allies:
Elk or Wapiti, Mule Deer, White-tailed Deer
Pronghorn:
Pronghorn
Bighorn Sheep:
Bighorn Sheep