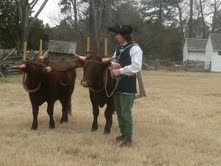 All the staff at George Washington's Birthplace were preparing the animals for their appointments with the veterinarian and the snow to come. The Animals stalls were cleaned and fresh hay was distributed. Several of our furry friends were a little anxious about what was to come but we assured them that they would be just fine.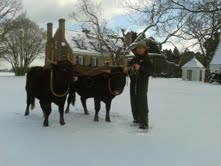 Behind the Scenes: Training Continues for the Park Oxen

"Step. Up!" "Easy" "Gee,Gee around." "Haw!" "Whoa" "Stand!"
The calls of the oxen driver (teamster) are ringing through the brisk mornings once again here at Popes Creek Plantation. The park's two young Red Devons, brothers Vic and Abe are being trained as oxen have been for centuries.
Park Ranger Chris Kennedy has taken on the job of training our oxen after having received hands-on experience working with the ox drovers at Mt. Vernon. He has been working with Vic and Abe individually, using a single neck yokes, but this week, we are proud to announce the exciting news Vic and Abe are officially a team of oxen as opposed to an ox in a yoke. Being brothers, Vic and Abe do sometimes show a little sibling rivalry, but for the most part like each other's company and don't like being separated. The oxen, which are a breed similar to what George Washington would have seen here almost 300 years ago, were born here in the summer of 2010. Vic was actually born the same day as the earthquake in September 2010. Eventually they will be the main attractionduring ox
handling demonstrations for visitors.
Vic and Abe are an impressive sight, whether grazing in the pasture, or following the drivers voice commands. As you stroll around the farm area, you might just catch a glimpse of rangers brushing them, feeding them, or catch the team in the neck yoke. Plan a visit to see all of our treasured farm animal friends here at George Washington Birthplace.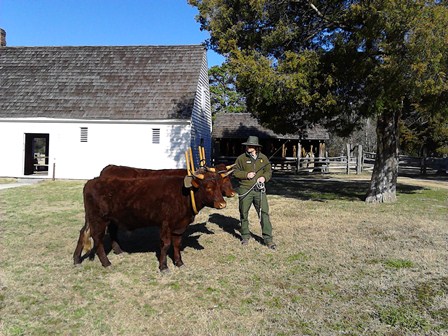 Abe and Vic stand at attention in response to the trainers command Stand. Abe is referred to as the "Off" or "Far" Ox because he is positioned farthest to the right of the Driver. Vic is referred to the "Nigh" or "Near" Ox because he is the nearest to the driver. Historically there have been other names used as well. In fact there are variations to the terms used for the handler. Some call this person a Teamster, because he is working a team Oxen and some call this person a "Drover" in addition to "Driver".