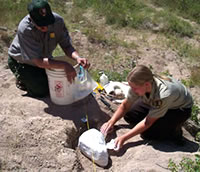 Volunteer
Volunteers come from all over the world to help preserve and protect America's natural and cultural heritage for the enjoyment of this and future generations. History buffs, amateur naturalists, re-enactors, artists, campground hosts, gardeners and many more volunteers of all ages give of their time and expertise to help our National Parks.
more...
Youth Programs
Through youth programs, young people develop a life-long commitment to support our national parks and protect our natural environment and cultural heritage. At present, there are over 25 youth programs operating throughout the National Park System.
more...
Internships
Across the nation, interns apply knowledge from the classroom while gaining experience and meeting professionals in the field or office. Possible fields range from archeology to interpretation to web development.
more...
Partnerships
The National Park Service works with partners to extend the benefits of natural and cultural resource conservation and outdoor recreation throughout this country and the world. Friends groups assist parks in supporting needed park programs and projects that have been beyond the reach of limited appropriated dollars.