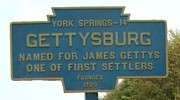 GETTING AROUND GETTYSBURG

Public transportation is available in Gettysburg through Freedom Transit, operated by the Adams County Transit Authority. Freedom Transit has three lines- Red, Blue and Gray- that run to downtown Gettysburg from the Museum and Visitor Center, to stops west of Gettysburg as well as stops east of town at convenient locations for visitors staying in area hotels and motels. For additional information on rates and schedules, visit the Freedom Transit web site.
The speed limit in Gettysburg is 25 miles per hour on most borough streets, which are clearly marked with directional signs and turning lanes at prominent intersections. Metered public parking is available on most borough streets. For downtown convenience, public parking lots are available on East High Street and in the downtown parking deck on Race Horse Alley, accessible from North Stratton Street. The parking deck should be used for your visit to the Wills House, located on the square in Gettysburg.
Drivers should be mindful of slow moving horse-drawn carriages during spring, summer and fall months as well as heavy pedestrian traffic at intersections.