Schedule Of Park Events
Search for Events
Events Upcoming for March
The calendar of events is updated as announcements occur and confirmations are made. Dates, locations and times are subject to change. The current schedule of Ranger programs is available on our Ranger Programs at Gettysburg page. For further information on park events, contact Gettysburg National Military Park at (717) 334-1124, ext. 8023. For information on the Eisenhower National Historic Site call (717) 338-9114 or visit our web site at www.nps.gov/eise. The Gettysburg Foundation sponsors special events and programs throughout the year and have a complete schedule of events posted on their website at www.gettysburgfoundation.org. For additional information on area attractions, hotels, motels, restaurants, campgrounds, the annual summer reenactment and more, visit the Gettysburg Convention and Visitors Bureau or call them at (717) 334-6274. For those wishing the calendar of events for both Gettysburg and Eisenhower National Historic Site, you can download a copy in pdf format here:
2014 Calendar of Events for Gettysburg NMP and Eisenhower NHS (pdf)

(Gettysburg Daily)
NPS WINTER LECTURE SERIES 2014
Beginning January 4 and running through March 9, the park offers a series of lectures that touch on many different aspects of the Civil War, the Gettysburg Campaign, and, in observance of the critical year of 1864, programs focusing on the critical campaigns that took place 150 years ago. Programs begin at 1:30 PM on Saturday and Sunday in the Gettysburg National Military Park Museum and Visitor Center. Visit or Park Events page for day, time and subject matter or download the full schedule here: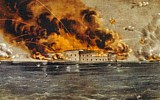 THE CIVIL WAR: 150 YEARS
The official web site for the National Park Service Sesquicentennial Commemoration. Check here for news and events going on in your national parks to commemorate the 150th Anniversary of the Civil War.


Did You Know?

In July 1913, over 50,000 Union and Confederate veterans camped at Gettysburg National Military Park to commemorate the fiftieth anniversary of the battle.