Schedule Of Events
Search for Events
Events Upcoming for November
Showing 2 results
Saturday, November 23, 2013

Luminary candles will be placed in the Civil War section of the Soldiers' National Cemetery at Gettysburg. More

Time:

5:30 PM to 9:30 PM

Location:

Soldiers` National Cemetery

Fees:

Free of charge

Saturday, November 23, 2013

The annual parade of Civil War living history and reenactment groups through Gettysburg to the G.A.R. Monument on the battlefield park, beginning at 1 PM. More

Time:

1:00 PM to 2:00 PM

Location:

Gettysburg

Fees:

Free of charge
The calendar of events is updated as announcements occur and confirmations are made. Dates, locations and times are subject to change. The current schedule of Ranger programs is available on our Ranger Programs at Gettysburg page. For further information on park events, contact Gettysburg National Military Park at (717) 334-1124, ext. 8023. For information on the Eisenhower National Historic Site call (717) 338-9114 or visit our web site at www.nps.gov/eise. The Gettysburg Foundation sponsors special events and programs throughout the year and have a complete schedule of events posted on their website at www.gettysburgfoundation.org. For additional information on area attractions, hotels, motels, restaurants, campgrounds, the annual summer reenactment and more, visit the Gettysburg Convention and Visitors Bureau or call them at (717) 334-6274. For those wishing the calendar of events for both Gettysburg and Eisenhower National Historic Site, you can download a copy in pdf format here:
2013 Calendar of Events for Gettysburg NMP and Eisenhower NHS (pdf)
(updated September 9, 2013)
(NPS)
150th ANNIVERSARY OF THE GETTYSBURG ADDRESS
The 150th Anniversary of the Gettysburg Address will be observed on November 19, 2013 in the Soldiers' National Cemetery at Gettysburg. Gettysburg National Military Park in partnership with the Lincoln Fellowship of Pennsylvania, Gettysburg College, and the Gettysburg Foundation will commemorate the dedication of the cemetery at Gettysburg with a special one day event, beginning at 10 AM.
Pertinent information including the complete schedule for the day, advice on parking and shuttles, and guest speakers will be posted here on the park web site as soon as arrangements have been confirmed. This event is free of charge and tickets for entry will not be required.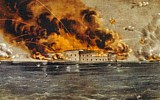 THE CIVIL WAR: 150 YEARS
The official web site for the National Park Service Sesquicentennial Commemoration. Check here for news and events going on in your national parks to commemorate the 150th Anniversary of the Civil War.


Did You Know?

"French Mary" Tepe, a vivandiere with the 114th Pennsylvania Infantry, assisted with the wounded at Gettysburg and was photographed after the battle by Mathew Brady.