McMillan Woods Youth Campground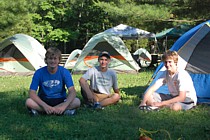 (Harry Waters, NPS)
For scouting and organized youth groups that visit Gettysburg National Military Park, we offer McMillan Woods Youth Campground, located on West Confederate Avenue in the park. The campground is open from mid-April through the end of October every year. Any organized youth group with adequate adult supervision (minimum of one adult for every 10 youths) is welcome to use the camping area, which is free to youth groups.
Camping here is by reservation only. Camp sites are reserved through an annual lottery held in February, after which space availability is open on a first come, first served basis though we highly recommend that groups participate in the lottery to insure a reservation for desired dates. The lottery system is necessary because of the demand for weekend dates rather than weekdays. Adults who accompany every group must be supervisors such as troop scoutmasters or youth counselors; family members are not permitted to camp with their child's organization.
The 2015 Camping Season runs from April 10 to October 25, 2015.
McMillan Woods Youth Campground is closed from October 26, 2015 through April 9, 2016.
To Make A Reservation at McMillan Woods Youth Campground
1. Please print and fill out the following reservation form:
McMillan Woods Youth Campground Reservation Form 2015 (pdf)
Mail or fax the completed form to:
Gettysburg National Military Park
Attn: Morgan Brooks, Campground Coordinator
1195 Baltimore Pike, Suite 100
Gettysburg PA 17325
Fax # (717) 334-0359
Reservations for the next year's camping season will be accepted at the park starting November 1st and end on or about January 15. Reservation forms received before the November 1st date will not receive consideration.
Reference: Weekend Camping Dates, 2015 Season (pdf)
2.The lottery for reservations is held on February 1st every year. We will only notify your group through the mail if they received a reservation for the date(s) selected or whether they have not. We do not release results of the lottery over the phone. All the notifications will be mailed shortly after February 1st and you should receive notification on or about February 15. The park will not release results of the lottery over the phone.
3. Beginning in February, the dates remaining for the rest of the camping season will be posted on-line here. Remaining sites and dates will be available first come/first served basis.
(Helpful Hint: The busiest time for the campground is Spring and early Summer. If you are flexible with your date, you may want to consider late Summer or early Fall.)
For weekday campground reservations (Monday through Thursday, call Morgan Brooks, McMillan Woods Campground Coordinator at (717) 338-4491.
(Weekend dates still available or fully booked, updated March 23, 2015)

Map Of McMillan Woods Youth Campground (pdf, 3.63mb)
McMILLAN WOODS YOUTH CAMPGROUND
Facilities: Provided are nine portable toilets and one handicapped unit, two potable water faucets, and a trash receptacle. There are ten camp sites, each with a picnic table and fire ring. Tents and dining canopies are the only shelters permitted. Campers or recreational vehicles are not permitted. Vehicles must remain in the parking lot only at all times! Camp stoves using propane or white gas are permitted. All wood fires must be contained within the fire ring. The park does not provide firewood. Trenching around tents is not allowed. Water provided is for drinking only. There are no shower facilities at the campground.
Quiet Hours: 10 P.M. to 6 A.M. There are no outside lighted areas. No walking/hiking on the Battlefield during the quiet hours.
Check In/Check Out Procedures: A copy of all site assignments will be posted on the bulletin board at the campground. You do not need to check in with a ranger. Locate your site and make camp. Arrival and earliest set-up time is 11:00 A.M. and the site must be cleared by noon on the day of departure. Please keep your camping permit in your possession at the campground.
Fees: There is no charge for your stay at McMillan Woods Youth Campground.
Directions: McMillan Woods Youth campground is located in the park on West Confederate Avenue, which is accessible from West Middle Street (Rt. 116) in Gettysburg. West Confederate Avenue is a one-way road. Click here for additional directions (pdf). If you still have questions regarding directions, call the park at (717) 334-1124, extension 3131 (weekdays only).
Scout Trails Information: The "Boy Scouts of America Gettysburg Heritage Trail Guide" is available in the park Museum and Visitor Center bookstore and from the New Birth of Freedom Boy Scout Council web site.
Security Notice: In planning your visit to Gettysburg National Military Park, please keep in mind that the park Museum and Visitor Center is a privately owned facility, operated by the Gettysburg Foundation. For reasons of security, backpacks, day packs, large handbags, packages or other medium to large sized containers are prohibited in this building and cannot be left unattended outside of it. All persons entering are subject to search. Please lock your valuables in the trunk of your vehicle and out of sight while in the park and while camping at McMillan Woods Youth Campground.
Notice of Bans on Outdoor Fires: When, in the case of extremely dry conditions, there is a ban on outdoor fires in effect for Adams County, it will be announced on the Pennsylvania Department of Conservation and Natural Resources web page with a notice from the park on this page. The PDCNR provides notices of burn bans and severe conditions throughout the state.