150th Anniversary of Gettysburg Frequently Asked Questions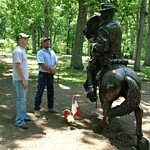 Have a question about activities, parking, getting around or any of the other things that come to mind when planning your visit to Gettysburg for the 150th Anniversary Commemoration? Here you will find answers to the typical questions our visitors have and hopefully you'll find your answers, too!
1. What is the schedule and descriptions for the park Ranger Programs for the Gettysburg 150th?
The schedule of ranger programs is posted on the park web site at www.nps.gov/gett in the 150th Anniversary pages.
2. What are the key events planned in the park for the anniversary days?
The key events are from June 29 through July 7, including Sacred Trust talks and book signings, the June 30 commemorative ceremony, living history on the Gettysburg battlefield and the four days of special Ranger programs from July 1 through July 4. Also, the 150th Anniversary of the Gettysburg Address will include some very important events, notably the ceremony held annually in the Soldiers' National Cemetery on November 19, 2013. The schedule of park programs is on the park web site at www.nps.gov/gett. Sacred Trust information is on the Gettysburg Foundation website at www.gettysburgfoundation.org.
3. Can my Boy Scout or Girl Scout Troop assist with Gettysburg's 150th?
Thank you for your offer to assist the National Park Service. We welcome scouting groups and hope that you will plan to attend Gettysburg's anniversary events but we do not have a need for scout volunteers to support these events. If your group is part of the "New Birth of Freedom" Council of the Boy Scouts of America you have an opportunity to participate in a special camping and volunteer service project planned for September 2013. For more information go to the website: http://newbirthoffreedom.org/
4. Is there going to be a reenactment of the battle and where do I find information about it?
The National Park Service does not host or sponsor reenactments on park property. There are a number of reenactments planned for Gettysburg produced by private companies. The Blue Grey Alliance is scheduled for June 29 and 30. Go to the web site at www.bluegraygettysburg.com for further information. Another is organized by the Gettysburg Anniversary Committee on July 5-7. Go to the web site at www.gettysburgcivilwar150.com for further information. For a comprehensive look at reenactments and skirmishes go to www.gettysburgcivilwar150.com.
5. Where do I find information about special events in Gettysburg and lodging for the Gettysburg 150th?
Information about lodging and special events in the Gettysburg area is available on the Gettysburg Convention and Visitors Bureau web site at www.gettysburgcivilwar150.com.
6. Can my group perform at any of the park's 150th Anniversary events?
The park has completed the planning and programming for our 150th anniversary events and ceremonies. If your group is still interested in performing for free at any other time of year, the Gettysburg Foundation would be happy to speak with you. The Foundation is the cooperating partner with Gettysburg National Military Park. Please contact Ms. Cindy Small at CSmall@gettysburgfoundation.org.
Additionally, the "Steinwehr Avenue Business Improvement District" is also interested in hosting special events and performances. For further information, contact Ms. Tammy Myers at tmyers@gettysburgmuseum.com.
7. Where do we park during the anniversary days?
Parking lots near the Museum and Visitor Center will be open for public parking until full at which time drivers will be directed to satellite parking areas outside of the park. Shuttle buses will be running from these satellite parking areas into Gettysburg and to the Museum and Visitor Center throughout day, free of charge. Look for directional signs to these lots during your arrival. A list of satellite parking areas will be posted on our "Plan Your Visit for the 150th Anniversary" page.
Shuttle buses will be running through the park during the anniversary days, June 30 through July 4. Visitors may wish to consider leaving their vehicles in the secure parking areas and utilizing this free service during the anniversary commemoration.
8. What precautions do we need to consider during the anniversary days?
June and July are typically warm and humid in south central Pennsylvania. We suggest that visitors come prepared with water, sunscreen, proper footwear, and a cell phone to be used in case of emergency. In case of emergency during your visit to the park immediately call 911. Medical emergencies will be handled by park law enforcement and medical personnel from Gettysburg Hospital and volunteer fire companies. We have additional suggestions on our Plan Your Visit for the 150th Anniversary page.
There are numerous businesses near the park and in Gettysburg where food and refreshments are available. Food and refreshments are offered in the Museum and Visitor Center but are not available on the battlefield park itself.
9. What is the number of visitors to Gettysburg National Military Park?
The park's annual visitation is 1.2 million per year. For further information on visitor statistics, go to https://irma.nps.gov/Stats/
10. Where can I find information about area hotels and campgrounds?
The Gettysburg Convention and Visitor's Bureau has a complete list of area accomodations and will assist visitors in locating hotels and motels outside of the area. The Bureau also offers information about the reenactments and other events in downtown Gettysburg. Visit the GCVB website at www.gettysburg.travel or call (717) 334-6274.
Did You Know?

The tiny home of widow Lydia Leister was used by Union General George G. Meade for his headquarters during the Battle of Gettysburg in 1863.