150th Anniversary of Gettysburg Frequently Asked Questions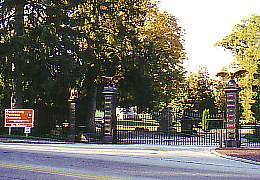 Have a question about activities, parking, getting around or any of the other things that come to mind when planning your visit to Gettysburg for the 150th Anniversary of Dedication Day and the Gettysburg Address? Here you will find answers to the typical questions our visitors have and hopefully you'll find your answers, too!
1. What is the schedule of events for the 150th Anniversary of Dedication Day?
The Dedication Day schedule is posted on the park web site at www.nps.gov/gett in the 150th Anniversary pages.
2. What are the key events planned for Dedication Day?
The annual ceremony will begin with a wreath presentation in the cemetery at 10:00 AM, followed by the program to be held on the cemetery rostrum. The program is free of charge and tickets for entry to the cemetery are not required. The ceremony will conclude at approximately 11:30 AM.
3. Who sponsors Dedication Day?
Dedication Day is hosted by Gettysburg National Military Park in partnership with the Gettysburg Foundation, Gettysburg College, and the Lincoln Fellowship of Pennsylvania, which has additional information about the ceremony on their web site at www.lincolnfellowship.org.
4. Is there seating available for the cemetery program?
Seating will be available in front of the rostrum but is limited to approximately 2,000 seats. We do suggest you bring portable chairs in case none of these are available once you arrive.
5. Is there going to be a reenactment of the Gettysburg Address and cemetery dedication?
The original dedication ceremony will not be re-enacted. As he has done for many years now, Mr. James Getty of Gettysburg, who portrays President Abraham Lincoln, will be delivering the Gettysburg Address during the ceremony.
6. Where do I find information about special events in Gettysburg and lodging for the Gettysburg 150th?
Information about lodging and special events in the Gettysburg area is available on the Gettysburg Convention and Visitors Bureau web site at www.gettysburgcivilwar150.com.
7. Where do we park for the Dedication Day observance?
Parking is available at the National Park Service Museum and Visitor Center and designated overflow areas on the west side of the cemetery will be open for public parking until full at which time drivers will be directed to satellite parking areas outside of the park. Shuttle buses will be running from these satellite parking areas into Gettysburg and to the cemetery lots throughout day, free of charge. Look for directional signs to these lots during your arrival.
8. What precautions do we need to consider during the anniversary days?
November in south central Pennsylvania can be typically cold and blustery. We suggest that visitors come prepared with proper warm clothing, water, proper footwear, and a cell phone to be used in case of emergency. In case of emergency during your visit to the park immediately call 911. Medical emergencies will be handled by park law enforcement and medical personnel from Gettysburg Hospital and volunteer fire companies.
There are numerous businesses near the park and in Gettysburg where food and refreshments are available. Food and refreshments are offered in the Museum and Visitor Center but are not available in the park or the national cemetery.
9. What is the number of visitors to Gettysburg National Military Park?
The park's annual visitation is 1.2 million per year. For further information on visitor statistics, go to https://irma.nps.gov/Stats/
10. Where can I find information about area hotels and campgrounds?
The Gettysburg Convention and Visitor's Bureau has a complete list of area accommodations and will assist visitors in locating hotels and motels outside of the area. The Bureau also offers information about events in downtown Gettysburg. Visit the GCVB website at www.gettysburg.travel or call (717) 334-6274.

Did You Know?

George Armstrong Custer led a brigade of Michigan cavalry at Gettysburg, his first battle as a brigadier general.