150th Anniversary Kids & Family Activities
Special Junior Ranger Patch and Keepsake Identity Card Photo Frame
Beginning this spring and continuing throughout 2013, kids can earn a special 150th anniversary Junior Ranger patch by completing the Junior Ranger activity book. In addition, during the 9-day commemorative events (June 29-July 7), Junior Rangers can collect a keepsake identity card of one of six different Gettysburg soldiers and civilians - designed to look like a Civil War daguerreotype. Featured individuals include: a Confederate soldier fighting back in his hometown of Gettysburg; a local Underground Railroad conductor; a Cuban immigrant who became a Lieutenant Colonel in the Union Army by the time of this battle; a nurse from the Second Corps hospital south of town; a soldier's wife who turned over her home to be used as army headquarters; and a farmer who helped to find, identify and rebury the Union dead.
Junior Rangers can earn all six keepsake cards by exploring the footsteps of the individuals - one by one - and bringing "proof" back to the Family Activities Tent or NPS Information Desk. (Proof can be in the form of a phone photograph, or other demonstration of knowledge from the sites identified on the card.)
For 2013 Junior Rangers, there are so many opportunities to learn about the people involved in, and affected by, the battle of Gettysburg!And after your visit, you can get involved in Junior Ranger programs in other parks, and on the internet at www.nps.gov/webrangers!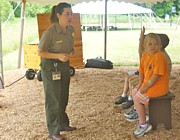 Family Activities Tent
From July 1 through the 4th, the front lawn of the Visitor Center will house a special family and children's tent full of activities, programs, and hands-on opportunities. Stations will include a Living History stage where a new Gettysburg "personality" will be revealed each hour; Infantry, Cavalry and Artillery drilling stations; soldier pastimes circle, dress-up photo booth, and an Ask a Ranger desk. We will have the lawn cannon out there to run through loading and firing drill periodically as kids gather . . . same for infantry drill . . . and a "person from the past" will be available on the hour throughout the day to tell their stories.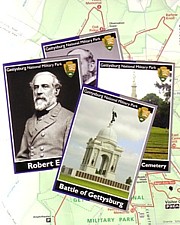 Trading Card Fever!
Children can collect special Civil War Trading Cards during their visit to the park. Attend a Ranger Program or visit the Family Activities Tent during the anniversary days. Collect all eight Gettysburg cards and be sure to collect cards offered by other Civil War parks. History on a trading card is not just educational- it's fun!
Did You Know?

George Armstrong Custer led a brigade of Michigan cavalry at Gettysburg, his first battle as a brigadier general.